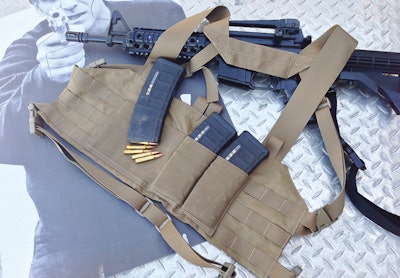 Blue Force Gear's new Ten-Speed Chest Rig takes the simple yet highly functional concept of the load-bearing chest rig and not only makes it more versatile, but sheds unnecessary weight in the process.
This system is a marriage of two designs. The first is the obvious chest rig design. The second is Blue Force's Ten-Speed mag pouch system. The Ten-Speed was born of simplicity and function. A sturdy nylon or Kydex pouch that once housed M4 magazines is replaced with a large elastic panel separated by vertical stitching to partition it into individual pouches. Left unused, these pouches retract completely and essentially disappear. Need to stow some gear? The M4 magazine-sized pouches will not only securely hold your 30-round mags, but anything else you can think to shove in there.
The Ten-Speed chest rig incorporates a four-partition panel of this Ten-Speed system across the center panel of the harness. On either side are three rows of MOLLE webbing that allow the user to add an endless array of pouches and accessories. If that isn't enough storage space, the entire front panel is an 18 x 6-inch pouch with a large hook-and-loop enclosure at the top. This pouch is a great place to dump your administrative gear.
I started my evaluation by loading up the Ten-Speed with four loaded M4 magazines and adjusting the straps to fit my torso. The ergonomics of the harness were very good, and the straps were wide enough to distribute the weight well. As a "bail-out" rig this set-up would work perfectly. It is almost as quick to get into as a rifle sling and carries enough ammo for the worst of "bad day" scenarios. Until that day comes, the Ten-Speed rolls up neatly and takes up very little room in a gear bag or rifle case.
Next, I decided to replace two of the M4 magazines with a TASER and my police radio. Both fit snugly in the large elastic panels and felt very secure. I added a double pistol pouch on one side and a small zippered admin pouch on the other and loaded both fully. The extra weight was noticeable but it still felt well distributed.
As soon as I finished playing "mix and match" with my gear, I reverted back to the simplest form and what the rig was designed to do in the first place, carry ammo and lots of it. With the added double pistol pouch my full load-out totaled 30 rounds of .40 caliber pistol and 120 rounds of 5.56mm rifle ammo.
I then hit the range. The first thing I noticed was how securely the rig stayed in place once I got the straps fastened properly. With the rig positioned just below my mid chest line, I was able to reach all of the magazines and, although very snug, draw them with ease. Here is where I encountered this system's weakness.
As easy as it was to retrieve a magazine, putting one back into the pouch was nearly impossible with one hand. I tried a few different methods of sweeping a finger or two into the loop to index the magazine but wasn't able to reseat them. The elastic that keeps them so secure is simply too tightly stretched to allow this without two hands. Still, I think Blue Force's Ten-Speed Chest Rig is a winner. Mine will likely be configured as a bail-out rig to be worn over my uniform in the event the "big one" ever hits.
Blue Force Gear Ten-Speed Chest Rig Specs:
Weight (empty): 319 grams
Four Ten-Speed M4 mag pouches can fit a wide variety of gear.
Fully adjustable
Connecting strap in the rear acts as an emergency drag handle and has loop field for ID/IFF patches
Price: $90
A.J. George is a motor officer and firearms instructor for the Scottsdale (Ariz.) Police Department.