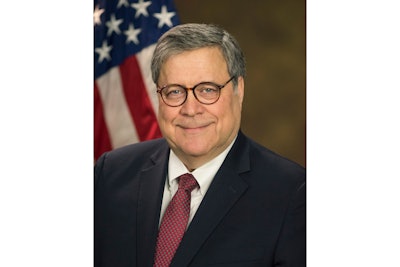 Attorney General William P. Barr addressed chiefs, sheriffs, and other members of law enforcement from across the country as he delivered opening remarks Monday at the Grand Lodge Fraternal Order of Police's 64th National Biennial Conference in New Orleans. He took the opportunity to voice his and the Trump Administration's support for law enforcement, and plans for how to support their mission.
"Let me say I am proud to serve in an Administration and under President Trump who so strongly support law enforcement," Barr said. "To my mind, there is no more noble profession than serving as a police officer. You put your own life and well-being on the line to protect your communities."
Barr praised the actions of the officers who responded to the recent mass shootings in El Paso, TX, and Dayton, OH, by running toward danger and preventing further bloodshed. He said President Trump and the Administration are working on developing tools to detect and thwart potential mass shooters as well as creating operational and legislative proposals to prevent future domestic terrorism attacks.
The attorney general also lamented the fact that not enough people appreciate what officers do. He acknowledged the difficulties today's law enforcement officers face, including assaults with water in New York City, which he cited as an example of an overall increase in assaults against police.
"Even in the best of times, there is no tougher calling than serving as a police officer. Today, it is much tougher than it has ever been," Barr said. "This Administration will not tolerate violence against police, and we will do all we can to protect the safety of law enforcement officers.
"I will share with you one proposal that we will be advancing after Labor Day. We will be proposing legislation providing that in cases of mass murder, or in cases of murder of a law enforcement officer, there will be a timetable for judicial proceedings that will allow imposition of any death sentence without undue delay. Punishment must be swift and certain."
Barr also took to task self-styled "social justice reformer" district attorneys who "spend their time undercutting the police, letting criminals off the hook, and refusing to enforce the law" for demoralizing officers and posing a danger to the public.
"One of my messages today is that the American people need to pay close attention to issues of public safety in their communities. As a society we should not take our police officers for granted," he said.
With decreasing law enforcement numbers, he said it is even more important that the public and governments support the police so people will want to become and remain officers, and "It is imperative that state and local jurisdictions not scrimp on investing in law enforcement."
"In closing, I want to thank you again for all that you do. Thank you for keeping us safe where we live and work," Barr said. "Please continue to do what you do. This Administration has your back."