In past June issues, POLICE covered rudimentary age progressed photo technology, the infamous Columbine High School shooting, and the introduction of body cameras for officers. Here is a look back at the pages of POLICE Magazine 10, 20, and 30 years ago.
2009: Turning Cops Into Cameras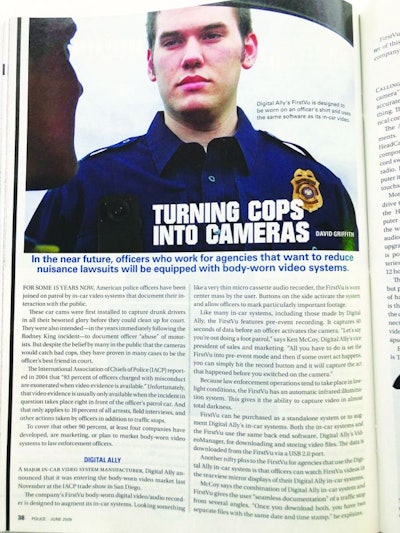 By now, many LEOs wear body-worn cameras on duty. The public is used to seeing the cameras as well as much of the resulting video. But in 2009, all of this was still new.
Editor David Griffith opens an article about this technology with the deck, "In the near future, officers who work for agencies that want to reduce nuisance lawsuits will be equipped with body-worn video systems." He explains that dashcam video had helped exonerate officers accused of misconduct, but that such video was only available in about 10% of arrests, field interviews, and other incidents because dash cams only capture what happens directly in front of a law enforcement vehicle. He goes on to say that companies had recently developed body-worn cameras to fill in the gaps.
Today, many officers have, in fact, been exonerated by the video their body cams captured. Sometimes it's hard to remember what it was like before this technology was so ubiquitous.
1999: Murders at Colorado School May Offer Lessons for the Future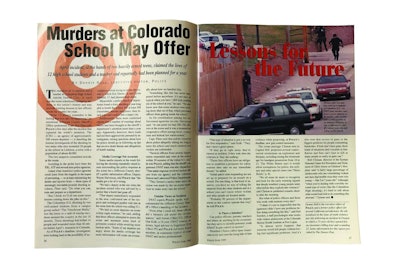 Not long after the school shooting at Columbine High School in Littleton, CO, POLICE ran an article looking to find takeaways that could help officers better respond to a similar event.
Jefferson County sheriff's public information officer Deputy Wayne Halverson is quoted as saying, "Something like this has never happened before anywhere. It's not easy or typical when you have 1,800 kids pouring out of the school at you." Unfortunately, many school shootings have happened since then. But law enforcement has taken the lessons learned from Columbine to heart, and continues to rethink and adjust tactics for responding to such incidents.
1989: Computer Age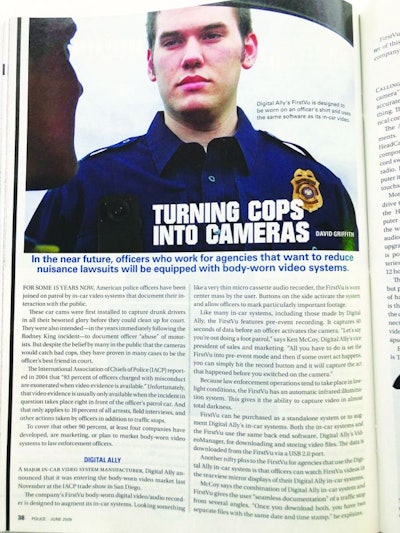 This article on "computer-assisted aging" explains how a photo of a missing child could be electronically altered to create a more accurate portrayal of the child. But it wasn't like the age progression photos used today. It was really more of a guide for sketch artists.
With this technique created by Scott Barrow and Lewis Sadler, an old photo of the child was digitized and entered into a computer. Then the computer measured 29 facial "landmarks" that were adjusted based on the child's "current" age and expected growth/change in facial structure. Based on these changes, an artist would create a new rendering of the child. When photos created using this technique were shared on a TV show one night in 1985, two sisters who had been abducted by their father in 1977 were found the next morning and their father was arrested.
What's also interesting is that the article begins with, "Carlina Renae White is still missing from Harlem, N.Y." But that's no longer the case thanks to new techniques. The woman who lived her life as Nejdra "Netty" Judy Nance after being abducted from a hospital as a baby in 1987 solved her own kidnapping case at the age of 23. She found her biological parents through online research that included reading news stories about her own kidnapping. Then a DNA test confirmed that she was in fact the long-missing Carlina White.