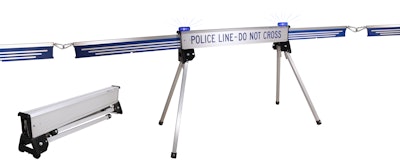 The Retracta-Cade is a fully portable, retractable barricade system. A retired NYPD lieutenant developed the Retracta-Cade crowd control barrier so first responders can have a safety barricade immediately available that's also easy to transport in patrol cars and inexpensive to store.
The 10-foot-long, 37-pound barrier deploys in less than 30 seconds to provide immediate security. It retracts easily to less than half its size for compact storage and transportation. The Retracta-Cade reduces costs for labor, warehousing, and transportation compared to traditional crowd control barriers, according to the company.
The Retracta-Cade is made in America from rust-proof anodized aluminum and impact-resistant plastics for rugged outdoor use. Printed sign panels allow the Retracta-Cade to be used for multiple applications, and accessories such as lights and reflective tape increase visibility at nighttime. Retracta-Cades lock together with attached carabiners for a continuous line of barricades.