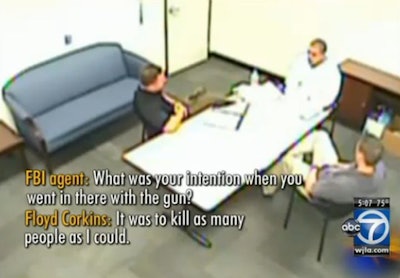 A man who planned a mass shooting at the headquarters of a conservative Christian lobbying group in Washington last year was sentenced Thursday to 25 years in prison for the plot that injured a security guard.
Floyd Corkins II was carrying 15 Chick-fil-A sandwiches and nearly 100 rounds of ammunition during the shooting at the headquarters of the Family Research Council. He later told authorities he planned to kill as many people as possible and to smear the sandwiches in his victims' faces as a political statement. Chick-fil-A was making headlines at the time because of its president's opposition to gay marriage, and the Family Research Council also opposes gay marriage.
During a sentencing hearing Thursday, Corkins apologized to the Family Research Council and the security guard he injured.
Read the full Associated Press story. View an ABC News report with Corkins' confession here.