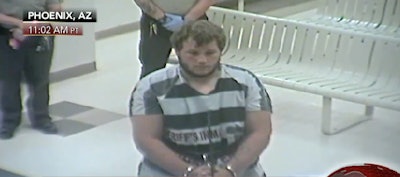 The Phoenix freeway-shootings investigation took Arizona and federal law-enforcement officials along a path of evidence that started with bullet fragments, led to a 9mm handgun and culminated Friday with the arrest of a man who insists he is innocent.
Two law-enforcement officials attributed the arrest to a combination of ballistics, shoe-leather police work and following the suspect, Leslie Allen Merritt Jr., on social media.
Merritt faces a total of 28 felony charges: four counts each of intentional terrorism, committing a drive-by shooting, endangerment, aggravated assault with a deadly weapon, criminal damage, disorderly conduct and discharging a firearm within city limits, according to court documents.
Merritt made his initial court appearance Saturday morning, saying police had the "wrong guy," AZCentral.com reports.
A prosecutor requested a $1 million bond, saying that Merritt "presents a dramatic and profound threat to the community." Roberts agreed. Before Merritt was led away in handcuffs, he told the commissioner he could never afford to post the bond.