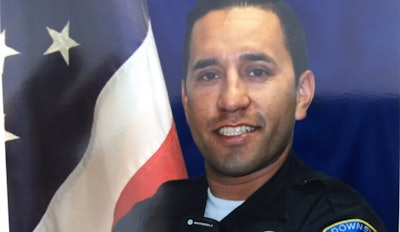 A 16-year-old Bellflower, CA, resident was charged Friday with murder in the shooting death of a Downey (CA) Police Department officer during a botched robbery earlier this week, prosecutors said.
Abel Diaz is scheduled to be arraigned later this afternoon in a Downey courtroom, and would face life in state prison if convicted in the killing of Downey PD Officer Ricardo Galvez, according to the Los Angeles County District Attorney's Office.
Diaz, who is being charged as an adult, is being held in lieu of $1 million. Two law enforcement sources with knowledge of the investigation said Diaz was not the gunman. The sources requested anonymity because they were not authorized to discuss the ongoing investigation, reports the Los Angeles Times.
Sheriff's investigators said Friday that Diaz and the other two suspects may have also been responsible for a series of recent robberies in the area.