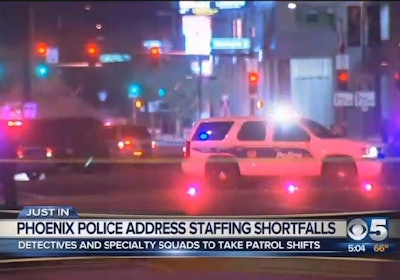 VIDEO: Officer Shortage Forces Phoenix Detectives Back to Patrol
The Phoenix Police Department will be implementing a plan to fill the open patrol positions that have plagued the department and cost the city millions in overtime, reports KPHO.
Chief Joe Yahner disseminated the new plan in an electronic announcement to his troops.
The plan is set to start on Monday, and is aimed at helping precincts maintain adequate staffing levels in patrol. Until now, open tours have been filled by officers working on their days off or working extra shifts.
The program calls on detectives and officers assigned to specialty squads. According to a Phoenix police spokesman, officers and detectives from throughout the department will be assigned patrol duties for a number of shifts each month. The number of shifts will depend on their current assignments, workloads,and related availability depending on how time-sensitive and critical their current duties are.
The chief's message included information on a training curriculum that will be available for employees who have not worked patrol for years. The training will include defensive tactics, Taser certification, and training on the new computer system the department recently put online.