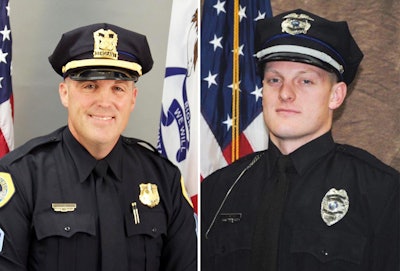 A more detailed picture of how two Des Moines, IA-area law enforcement officers were ambushed and killed in their patrol vehicles Wednesday and how the man suspected of their murders was captured emerged this afternoon during a press conference held by local officials.
Shortly after 1 a.m. officers responded to a shots fired call in Urbandale, IA, a Des Moines suburb. Arriving on the scene they discovered Officer Justin Martin of the Urbandale Police Department had been shot to death inside his car. About two miles away from that scene at approximately 1:26 a.m. Des Moines Police Sgt. Anthony Beminio was shot and mortally wounded while responding to the scene of the Martin shooting. He died at a local hospital. Neither officer had a chance to respond to the attacks.
Chief Ross McCarty of the Urbandale PD told the press conference that Officer Martin was attacked while stopped at an intersection. More than 15 shots from a .223 rifle were fired into the car from the side. Sgt. Beminio was probably killed in the same manner, as he was also ambushed in his patrol vehicle.
Investigators at the scene identified Scott Michael Greene as a suspect in the shooting. Sgt. Paul Parizek, public information officer for the Des Moines PD, said Greene was known to local law enforcement and that evidence at the scene "pointed in his direction."
After Greene was identified as a suspect, he turned himself in to the authorities without resistance. Reports say Greene flagged down an Iowa Department of Natural Resources officer on a rural road near Interstate 80 and surrendered. He was taken into custody by Dallas County Sheriff's deputies and Iowa State Patrol troopers. No guns were recovered during the arrest. Authorities say they are still searching for the murder weapons.
Because the suspect was experiencing medical distress from an existing health condition, he was taken to a local hospital where he was being held this afternoon. Parizek said Greene will likely be arraigned tomorrow morning.
Greene, an Urbandale resident, has a history of confrontational issues with neighbors and police. He was charged in 2014 with a simple misdemeanor count of interference with official acts when he resisted officers attempting a pat down search. Also in 2014, Greene was accused of harassing a man in an apartment parking lot. Greene, a resident of the same apartment complex, reportedly called the man the N-word and threatened to kill him. He pleaded guilty to a harassment charge and was sentenced to one year of probation.
Two weeks ago police say Greene took a Confederate flag to an Urbandale High School football game and waved it at "people of color" during the playing of the national anthem. Police were alerted and Greene was issued a trespass warning and told to leave. He reportedly posted a YouTube video of the incident in which he ranted against the police for violating his First Amendment rights.
Des Moines PD spokesman Sgt. Parizek said it's believed the attacks were carried out by a single suspect, and the capture of the suspect brought "a great sense of relief for the community and officers."
Officer Justin Martin was hired by the Urbandale PD in 2015. He was just off probation when he was killed. "We had high expectations for his future," Chief McCarty said. "This is a tragedy."
Sgt. Anthony Beminio was a 15-year veteran of the Des Moines PD. He was married with children, and had served as a school resource officer and a robbery homicide detective, among other duties. He had been recently promoted to sergeant.
Both Parizek and McCarty said their agencies are reeling from the loss of the two officers. They praised peer support officers for their work in helping fellow officers cope with grief.
McCarty said during the press conference he had never lost an officer before from any agency during his service. "I was hoping to finish my career without going through this," he said.--David Griffith