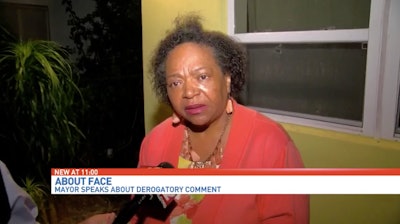 A union representing several thousand law enforcement officers in south Florida is furious with the mayor of Stuart, FL, over a comment she made.
Mayor Eula Clarke walked into a convenience store—Taylor's Grocery--in Stuart January 11 where Stuart Police officer Edward Fitzgerald was inside talking to one of the store employees.
Then the mayor made the comment, according to the police union, "I didn't know we were serving pig tonight."
John Kazanjian, president of the Palm Beach County Police Benevolent Association, Inc., said he and union members are outraged. "How does a community leader, a public servant do that to one of our officers?" he said.
Clarke has responded that she didn't intend to insult the officer. "I have the highest opinion for law enforcement. I value them, I value what they do. There was no intention for any harm, or anything harmful," Mayor Clarke told CBS 12.
The Palm Beach County Police Benevolent Association says the mayor needs to go to the police station and apologize in person to each and every member of the Stuart Police department.
The police union also says it will help her opponent in the next election.