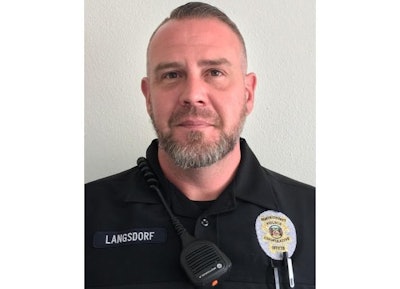 An officer with the North County Police Cooperative was shot and killed Sunday afternoon while responding to a call about a customer trying to cash a bad check at a local food market.
According to KMOV-TV, Officer Michael Langsdorf was confronted by a subject—identified as Bonette Kymbrelle Meeks—and a physical struggle ensued.
During the ground fight, Meeks was reportedly able to pull a gun from his waistband, and struck Langsdorf several times in the head with it, rendering the officer weak.
Meeks got up and stood over Langsdorf, who was lying face down on the floor of the market, police say.
Meeks then reportedly fired one shot into the back of Langsdorf's neck.
Monday, police said Meeks confessed to murdering Langsdorf, reports KMOV. The suspect has been charged with murder, armed criminal action, unlawful possession of a firearm and felony resisting arrest. No bond was set.
Officer Langsdorf had served with the North County Police Cooperative for only three months and had previously served with the St. Louis Metropolitan Police Department for 17 years. He is survived by his two children, fiancée, and parents.