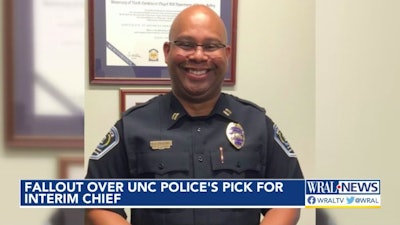 Some students at the University of North Carolina at Chapel Hill are upset about the possibility that the university's interim police chief could be promoted to chief.
They say he should be terminated for using force during a recent incident at a closed meeting of university officials.
On Tuesday, UNC-Chapel Hill announced the resignation of Chief David Perry and said Assistant Chief Rahsheem Holland, who has worked at the university for 20 years, would be temporarily taking over the department.
Holland has been the interim chief since May, when Perry went out on medical leave after knee surgery. Perry said in an email to WRAL News that he decided to step down during his recovery.
Interim Chief Holland's alleged actions at the meeting have UNC-Chapel Hill's Black Student Movement calling for the veteran officer's termination. Holland was seen pushing students out of a Board of Trustees meeting, and he is accused of punching Julia Clark, a student protestor, who later posted a picture of her bruised face on Twitter.
The incident happened when students refused to leave a closed meeting as the Board of Trustees took up the issue of tenure for UNC-Chapel Hill alumna and New York Times reporter Nikole Hannah-Jones, author of the "1619 Project."