An Alamo, GA, police officer who was working his first shift of a part-time job with the department was ambushed and murdered early Saturday morning. A suspect is in custody.
Officer Dylan Harrison, 26, was a four-year veteran of law enforcement. He had served with the Middle Georgia State University Police Department, the Cochran Police Department, the Dodge County Sheriff's Office, and was a full-time agent with the Oconee Drug Task Force.
Special Agent in Charge Lindsey Wilkes of the Georgia Bureau of Investigation said the GBI believes Officer Harrison was killed because of an arrest he made earlier during his shift.
Harrison was involved in an confrontation at a parking lot of a Circle K convenience store across the street from the Alamo Police Station Friday night. Harrison allegedly saw a man commit a traffic violation and made contact with him, according to Wilkes.
When that man reportedly refused to comply with Officer Harrison's orders, an altercation ensued. Harrison then discharged his TASER and took the man into custody, Wilkes said. She did not disclose the name of the arrested man.
Wilkes said the man arrested at the convenience store was a known associate of the man suspected in the ambush murder of Officer Harrison.
"It is believed that the ambush-style attack on Officer Harrison was retaliation for the incident and the arrest of the man Friday night," Wilkes said.
Damien Anthony Ferguson, 43, was arrested by a state SWAT team and a U.S. Marshals task force at his residence in Alamo. He is being held at the Wheeler County Jail. Wilkes says he has been charged with murder.
Ferguson served eight years in prison after being convicted in Wheeler County of charges including aggravated assault of a peace officer, Georgia Department of Corrections records show. He was released in 2006, ABC7 reports.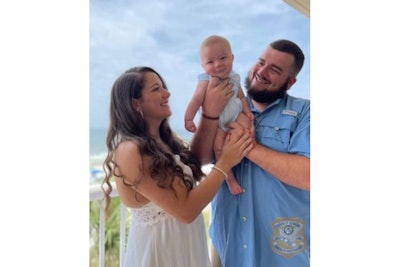 Officer Harrison is survived by his wife and a six-month-old son.
"As a police chief of Alamo, Georgia, I have never experienced a grief that I have felt since Officer Dylan Harrison's life was taken in our small, quiet town. Officer Harrison was a husband, a son, and more importantly the father of a 6-month-old boy. His life was taken from him for simply doing his job. Despite the sadness that we have endured, I have found a sense of pride in seeing everyone pull together to right this tragic wrong," Alamo Police Chief Karen Zanders said during a press conference.
Dylan Harrison's father said he told him weeks before his death, "I love helping people."
"My son loved what he did," Jeff Harrison told Fox5 Atlanta. "As hard as it is for us, that's one of the things that gets us through."
Officer Harrison's uncle said the young family was saving up to buy a house, which was why he was working part time in Alamo.