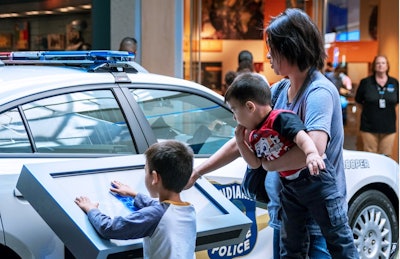 The National Law Enforcement Museum will be honoring officers with a special Police Weekend event Friday Sept. 29 through Saturday Sept. 30 at the Museum in Washington, D.C.
Museum officials said, "this annual event is a special time dedicated to celebrating and honoring the incredible contributions of law enforcement officers."
The weekend event includes:
Friday Sept. 29—Annual Award Ceremony and Reception:
An evening of recognition and appreciation as the Museum honors individuals and agencies who have demonstrated exceptional dedication. The honorees have not only saved lives but also exceeded the call of duty, leaving a lasting impact on the law enforcement community. The 2023 Awards Ceremony and Reception is sponsored by Verizon.
Saturday Sept. 30—Museum Open House:
Law enforcement officers can bring their family and friends for a day of excitement and entertainment free of charge. Activities include captivating exhibitions, and informative programs suitable for all ages. Highlights of the day include a K-9 presentation by the DC Metropolitan Police Department, storytelling sessions with police officers, and a creative opportunity for visitors to design their very own police patches. Attendees can also experience police simulators like the L3Harris Driving Simulator and The Decision Simulator, and explore insightful exhibitions such as "Roll Out: Automotive Images from the Museum's Collection." In addition, the short film "Service and Sacrifice" will be screened.
Please note that while the event is free of charge, admission to the Museum Open House requires a ticket.
To ensure seamless access to the Museum, staff asks attendees to secure their tickets in advance.
You can find tickets and additional information on the event's page.