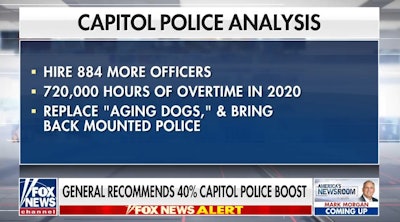 A U.S. Capitol security review conducted by retired Army Lt. Gen. Russell Honoré recommends the hiring of 886 more officers, the establishment of a "Quick Reaction Force" for the District of Columbia, and permitting the chief to request aid from area law enforcement agencies and the National Guard.
The 15-page report comes after Honoré and members of his task force conducted a six-week review into what happened at the riot in order to provide recommendations in the following areas: Capitol security operations, infrastructure physical security, and member security in congressional districts, residences and during travel, according to Fox News. Recommendations were passed on to the House sergeant-at-arms.
The report says the Capitol Police were "understaffed, insufficiently equipped and inadequately trained" to secure the Capitol and Congress members against the mob on Jan. 6, a 24/7 so a "Quick Reaction Force" (QRF) must be established amid growing security threats to the building.
The report says the QRF could be established three ways. The first option involves establishing the force from existing federal law enforcement entities, giving appropriate legal authorities and appropriations to staff to train and equip such a force. The second involves establishing the force under the command of the National Guard, which could be done by mobilizing military police from Guard elements across the U.S. on rotations of three to six months. And the third option involves creating a force that permanently resides within the D.C. Guard by reestablishing a military police battalion and staffing it with Active Guard Reserve troops who live in or near the city year-round "perpetually on active-duty."
On Sunday, House Minority Leader Kevin McCarthy, R-Calif., issued a statement arguing Honoré's "notorious partisan bias" raises the "unacceptable possibility" that House Speaker Nancy Pelosi, D-Calif., appointed him to lead the security review because she desired "turning the Capitol into a fortress."
McCarthy also said he told the task force the main problem with Capitol Police is management structure.
"Structure dictates behavior, and a Capitol Police Board dominated by political appointees is no way to maintain the security of the Capitol," McCarthy said.