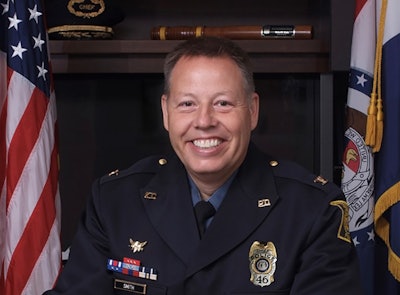 Kansas City, MO, Police Chief Rick Smith, whose four years of leading the agency saw violent street protests, high homicide rates and calls for his resignation, will reportedly step down next year.
During a Tuesday morning meeting with Mayor Quinton Lucas and the chairman of the Board of Police Commissioners, Smith agreed to retire on March 31, 2022, according to a source familiar with the situation. At the meeting, Smith was faced with the news that there were enough votes on the police board to oust him, KCUR reports.
Tuesday night, a defiant Smith was talking, telling a TV anchor, "I'm not going anywhere." That's even though his department issued a carefully-worded statement downplaying the news.
Police Capt. Leslie Foreman, in an email, said when Smith was hired in August 2017, he made a commitment to the board that he would stay on the job for no more than five years.
"As per his commitment, he plans to retire sometime in the upcoming year, 2022," Foreman wrote. "He will announce that date well in advance to ensure a smooth transition for the police department."