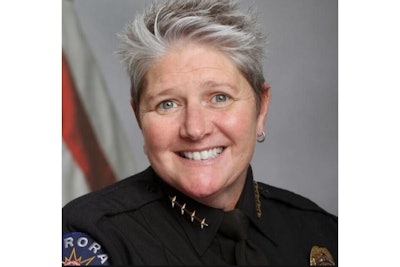 Aurora, CO, Police Chief Vanessa Wilson has been fired over morale issues in the embattled department.
Aurora City Manager Jim Twombly sent Wilson a termination letter Wednesday and confirmed the decision to "search for new leadership" for the department is effective immediately. Division Chief Chris Juul has been tapped to temporarily oversee operations at APD.
"It is clear that Chief Wilson has prioritized community involvement. However, the police chief also needs to effectively manage the operations of the department, effectively engage with staff, build morale, and validate employee feedback. To provide the level of public safety that our community deserves, a change in leadership must occur," said City Manager Jim Twombly.
During a press conference in response to the firing, Twombly said the decision came down to two main concerns of overall management and leadership of the department. When asked to provide specific examples, Twombly would not elaborate any further beyond saying attrition at the department was also a factor, and that he had talked with other Aurora officers and reviewed Wilson's record on his own.
Wilson's legal counsel, King and Greisen, said her firing is "without cause" as part of an effort for conservative city council members to diminish Wilson's credibility.
"These council members have made it clear that they did not support Chief Wilson's efforts to implement the Court order to reform the police department and eradicate the systemic racism found by the Colorado Attorney General in the wake of the death of Elijah McClain," a statement from Wilson's attorneys said.
The firing comes as the department is under a consent decree.
In September 2021, Attorney General Phil Weiser released a report based on a 14-month investigation saying the Aurora Police Department uses excessive force and racially biased police practices and violates state and federal laws as part of its patterns and practices. Based on the report, Aurora City Council voted to enter into a consent decree to fix issues involving policies, training, record keeping and hiring practices.
Wilson has been with the Aurora Police Department for 25 years, starting as a patrol officer, then a recruiter before becoming a detective. She was promoted to sergeant in 2006 and to lieutenant in 2009, and in 2012, was appointed the Executive Officer of the Major Investigations Bureau. She was also the first woman to be named division chief within the department in April 2015.
She was selected as interim chief in December 2019 and assumed the role on Jan. 1, 2020 after Chief Nick Metz retired. Wilson acknowledged at the time that she was taking over the department "at a very turbulent time" when the community was "angry" following the in-custody death of Elijah McClain.