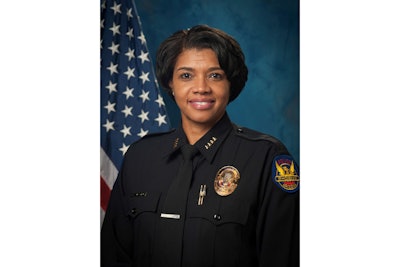 Phoenix Police Chief Jeri Williams has announced that she intends to retire "this summer." A specific date was not given.
"After much prayer and consideration and in consultation with my family and city leadership, I have decided to make a change," said Williams. "There is never a perfect time to transition but the time feels right for me now to step aside. Just like when I felt called to do this job, I also feel called right now to go in a new direction, allowing me the rare opportunity to prioritize family and explore future endeavors."
Williams, a Phoenix native, started her career with the Phoenix Police Department in 1989. She was an assistant chief with the Phoenix PD in 2011 when she was named chief of the Oxnard (CA) Police Department. She returned to Phoenix PD in 2016 as chief.
"Chief Williams has devoted her professional career to the city she loves," said City Manager Jeff Barton. "Her passion for this community, her leadership through challenging times and her commitment to reforming and evolving the Phoenix Police Department will be missed as she makes this decision to retire."
In a retirement announcement​, Chief Williams notes some of the accomplishments she's most proud of during her tenure as Phoenix Police Chief, including:
Body Worn Cameras
Issuing cell phones to officers
Documenting every time an officer points a weapon at someone
Implementing less-lethal response to encounters, which has prevented some officer-involved shootings
Obtaining a new records management system
Updating policies and procedures to mirror the changing expectations and demands of the community
Becoming fully compliant with #8CAN'TWAIT
Being transparent by showing the public Critical Incident Videos in 14-days or less