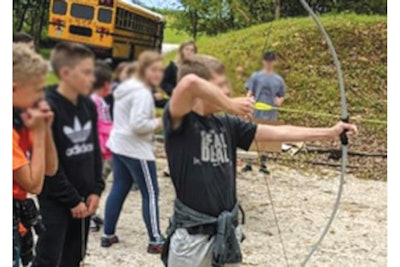 Four years into his police career Chief Thomas A. McClain of the Willard (MO) Police Department knew that in addition to his duties as a patrol officer, he wanted to help kids stay off drugs and out of crime. He was so determined in that goal that he even bucked the wishes of his then police chief in Oregon to enroll in D.A.R.E. training.
After receiving his D.A.R.E. certification, McClain went on to implement the D.A.R.E. program in two school systems. Then his faith led him to Springfield, MO, where he enrolled in a Bible college. He completed his education, but felt God was calling him back into law enforcement, so he joined the police force of Willard. McClain became the chief of the Willard PD in 1993.
Since taking command of the Willard PD, McClain has shepherded the agency's growth from four officers to 10, and he has continued to work with children. First, he established the town's D.A.R.E. program and then he took it another step. "The kids wanted more," McClain says.
The "more" that he decided to provide for them was a Police Athletic/Activities League (PAL). Along with reserve officer Glenn "Coach" Cozzens and with the blessings of local government, McClain launched PAL boxing training for both boys and girls.
"When you are sparring and your partner is connecting with jabs, there are reasons why you are getting hit in the face. And there's so many things you can do to avoid it. You can bob it, weave it, slip it, catch it, cover it…so many things. The truth I want these kids to realize is that so much of the time you can avoid negative situations," he says.
What some of the kids wanted to avoid was boxing. So McClain decided to expand the PAL program to add a day camp, which was built on municipal land. Along with activities such as zip lines, nature hikes, archery, and outdoor cooking, Camp Character includes instruction on the camp's basic tenets for students aged 8 to 18.
"We teach our lessons before the activities or during the activities," McClain says. "The lessons reinforce the attributes that Camp Character was built upon: responsibility, honor, self control, and discernment."
Camp Character was founded in 2015, and it has grown way beyond what McClain originally envisioned. "When the community found out about it, they started pouring resources into it," McClain says. "That enabled us to evolve into what we are today."
McClain says that when Camp Character is fully staffed it can accommodate as many as 100 students. But the optimal number is 25.
Willard PAL is designated as a 501 (c) (3) nonprofit and funding for both the camp and the boxing program is donated by local businesses. The donations cover such expenses as equipment, fuel, and food. Insurance is through the national pal www.nationalpal.org, covering the kids, the staff, and the board.