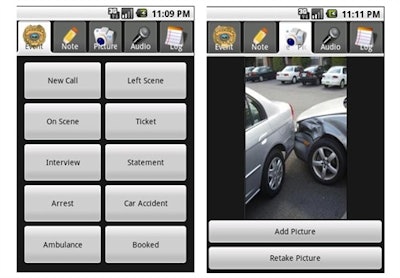 The Police Pad field app for Android allows officers to easily and simply document calls for service. The officer can mark "on scene," interview time, time of arrest, time the ambulance was called, and so on. There's a place to type notes, take photos through the device's camera, and record audio through the device's microphone.
The best part of the app is that the information recorded during an incident can be e-mailed. This includes typed notes, photographs, and any audio recordings. The app reduces the need to carry a clipboard, camera or digital recording device in the field. It provides these items in one location through an Android phone or tablet.
I tested the app on a Samsung Galaxy Tab, and it worked wonderfully. I was able to record a call for service just using the touch buttons. When I advised Miranda, I pushed the Interview button. When the subject gave me a statement, I pushed the Statement button and typed what they said under the Notes section.
I took pictures of the evidence, and sent the file to my work e-mail before leaving the scene. When I got back to headquarters, I had everything I needed waiting for me in my e-mail.
I'd recommend this app to any officer working the street. This is not just for patrol. I'm assigned to investigations, and this app provides what I need for my follow-up reporting and for my daily reporting to supervisors. This app is definitely in my top five of useful street apps.
| | | | | | | | | | |
| --- | --- | --- | --- | --- | --- | --- | --- | --- | --- |
| Field App Review | | | | | Ratings (of 5) | | | | |
| Name | Platform | Developer | Price | | Usefulness | Ease | Support | Value | Overall |
| Police Pad | Android | natayb | $1.99 | | 5 | 5 | 3 | 4 | 4 |
Tim Meacham is a police officer for a private university in central Virginia. He has a bachelor's degree in Criminal Justice from Liberty University and a master's in Criminal Justice from the University of Cincinnati.