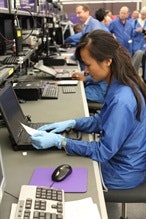 Getac announced yesterday that it had forged an agreement with FedEx to provide rapid turnaround repairs of Getac ruggedized laptop, tablet, and handheld computers. Under the agreement FedEx will not only handle the transport of the computers, specially trained FedEx TechConnect personnel will repair them.
FedEx TechConnect is a little-known subsidiary of FedEx Corp. To expedite the transport of cargo, FedEx uses thousands of high-tech devices. FedEx TechConnect, located in a facility in the Memphis suburb of Collierville, Tenn., is the company's in-house repair facility for those devices. FedEx TechConnect technicians make thousands of original equipment manufacturer-authorized repairs per day.
Recently, FedEx has been seeking contracts with commercial partners that want to take advantage of the capabilities of FedEx TechConnect. Getac is the first company to sign up for the program.
"The new FedEx TechConnect program will be a strong addition to Getac's industry-leading five-year bumper-to-bumper warranty," explains Jim Rimay, president of Getac Inc. "Our customers are on the front lines of some of the most hazardous, demanding, and time-sensitive professions in the world. Consolidating the numerous steps of packing, drop-off, diagnosis, repair, and shipment entirely with FedEx provides Getac customers with unprecedented turnaround times and open system visibility for tracking both the transit and repair status online."
Getac and FedEx promise a three-day turnaround on North American repairs. In order to take advantage of this program, all customers have to do is link to the FedEx TechConnect service portal from the support section of the Getac Website and get authorization for the repairs. From the site, customers can then print out a FedEx shipping label and summon FedEx couriers, or they can choose to take their malfunctioning computers to one of 1,800 local FedEx offices nationwide. Depending on location and customer preference, the computers will be shipped ground or air to FedEx TechConnect in Tennessee, repaired using Getac parts, and returned to the customers. The machine never leaves FedEx control during the process.
"Our customers are telling us that in today's fully connected world, it is no longer acceptable to wait weeks for repair of operationally critical technology," says Cary Pappas, CEO of FedEx TechConnect. "Rapid, reliable transportation is important, but only a part of the solution. We bring everything together—the parts, technical expertise, and manufacturer-approved practices—with the same type of tracking for repairs that FedEx is known for with shipments, to create a seamless technology experience that is unique to the marketplace. FedEx enables Getac to say to its customers, 'Your equipment is in one of two places—in your hands, or ours.'"
In preparation for launching this service, Getac engineers provided extensive onsite training to FedEx TechConnect technicians on Getac technology and features and the nuances of Getac computer products, certifying them to perform repairs. FedEx TechConnect quality assurance methodologies combined with Getac's 70-point inspection verify that everything is working properly. Following an initial test period, Getac opened the program to a beta group of select customers from major rugged vertical markets. Today, the service is not yet available to all Getac customers.
The Getac/FedEx TechConnect program is currently limited to North American customers. But Getac president Rimay says the program is likely to expand internationally, as FedEx TechConnect currently handles repairs from 180 countries for FedEx.