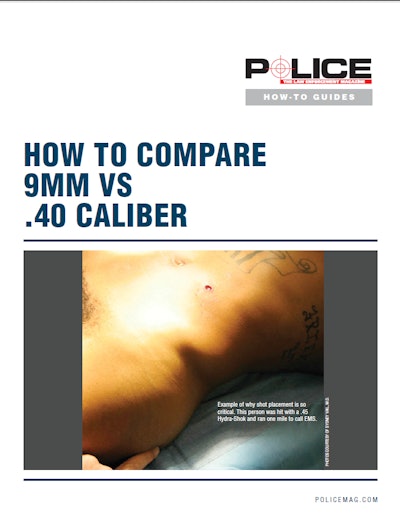 At the end of October 2015, the FBI announced that it was planning to swap out the .40 S&W pistols and ammunition now used by its agents and replace them with 9mm pistols and ammo. This was a widely discussed decision, given that the Bureau once partially blamed the performance of 9mm cartridges for the deaths of two agents in the 1986 Miami shootout and subsequently transitioned to 10mm and then to .40 caliber sidearms. This is also a widely followed decision because the FBI's choice of duty pistol and ammo will likely influence many other law enforcement agencies to give the 9mm jacketed hollow-point another look.
In the January 2013 issue of POLICE, I wrote an article titled "Stopping Power: Myths, Legends, and Realities," in which I discussed the wound ballistics performance of various popular pistol calibers as I have observed through my experience as a trauma surgeon and tactical medical specialist. My advice then and now is when it comes to claims about the effectiveness of handgun ammo, don't believe the hype. Instead, look at the hard facts.
And now that the FBI's decision to go back to 9mm pistols has ignited another round of debate about caliber effectiveness, it's time to look at the real-world performance of 9mm and .40 S&W rounds in terms of wound ballistics.