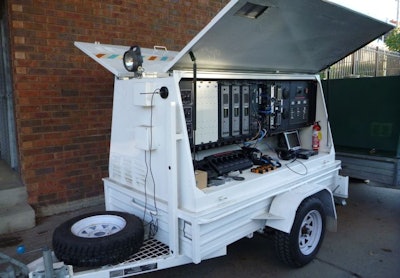 C4i has introduced the SwitchPlusIP Command-Center LT, a portable version of its SwitchPlusIP interoperable control console. At APCO Philadelphia in August 2012,
This new product, which was unveiled at the APCO trade show in Philadelphia, can be incorporated into a mobile incident response trailer with one operator position and the capability to integrate communications from six or more different radios into a single headset. The system can include an integrated GSM gateway, satellite telephony and Wi-Fi SIP phones.
C4i is now offering this product to public safety agencies who may need comprehensive, yet compact dispatch control that can operate anywhere, even in areas lacking radio coverage, according to the company.
SwitchPlusIP Command-Center LT is portable, yet functions similarly to a dispatch center. Features include wireless push-to-talk (PTT) functionality, configurable operator roles, and individual operating preferences such as volume control. Users can make and receive telephone calls, as well as transmitting and receiving audio from all radios simultaneously. The system also offers radio-to-radio and radio-to-telephony patching.
The portable system is ideal for temporary emergency operations center applications, according to the company. It comes with a battery and power supply so it can be set-up anywhere to act as a "communications hub" in the field. Designed to be extremely durable, SwitchPlusIP Command-Center LT provides local incident managers and mobile operators dependable access to vital emergency communications and clear digital reception in disaster situations.