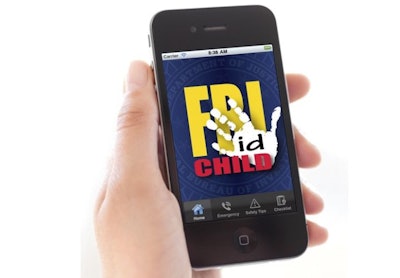 The FBI has introduced a smartphone app to help parents, guardians, and officers locate missing children.
Child ID, which is the first mobile application created by the FBI, allows parents to store photos and vital information about their children on their mobile device so it's on-hand if needed. The photos and other physical identifiers such as height and weight can be shown to law enforcement officers or security personnel at the scene.
One of the tabs on the app allows the owner to quickly e-mail the information to authorities.
The app also includes tips on keeping children safe as well as specific guidance on what to do in those first few crucial hours after a child goes missing.
The FBI is working to publicize the app with the American Football Coaches Association (AFCA) — it's long-time partner in the National Child Identification Program that provides a physical kit to gather your child's pictures, fingerprints, personal characteristics, and even DNA to keep with you in case of emergency. The AFCA is producing a public service announcement about the app and plans to spread the word at various football games during the upcoming season.
The Child ID app is now available only for use on Apple iPhone or iPod devices. It can only be downloaded for free from the App Store on iTunes. The FBI plans to add new features such as the ability to upload other photos stored on a smartphone.