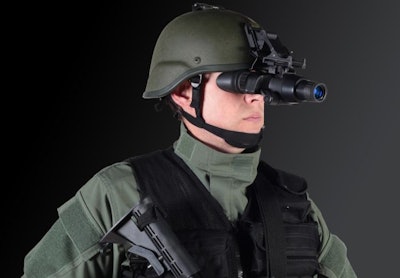 American Technologies Network has introduced the ATN PS7 night vision goggle for law enforcement, according to the company.
The ATN PS7 is a lightweight, high-performance night vision goggle that produces optical images in great clarity and detail even in unfavorable conditions, according to ATN.
The ATN PS7 can be used as a hand-held goggle or head-mounted with the hands-free, flip-up head mount assembly that comes standard with the goggle. It can also be used as a helmet-mounted model with an optional MICH or PAGST helmet mount kit.
The multi-coated, all-glass optics also feature a "sacrificial window" that shields the optics from sand or debris that may scratch the lens. The ATN PS7 is available with several different high-resolution image intensifier tubes. The ATN PS7 also has a built-in Infrared dual-focus and wide-angle Illuminator that enables vision in darkness.
The goggle is available in 3x, 5x and 8x lenses. It requires one 3-volt lithium CR123A battery or one 1.5 AA battery.