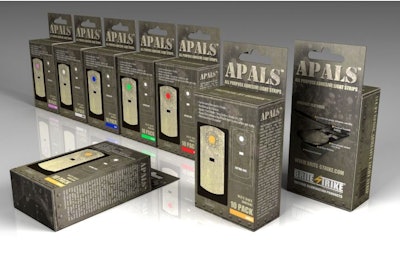 Brite-Strike Technologies has introduced the APALS (All Purpose Adhesive Light Strip) 10 pack, according to the company.
The crush-proof flex-pack developed by Brite-Strike eliminates accidental activation, the biggest problem with chemical light sticks, according to the company. Developed for our country's elite military units, the flex-pack has been tested and proven to be very effective even in the most stringent conditions. The small and lightweight flex-pack has 10 APALS and fits into the pocket of a sleeve or breast pocket.
APALS with "active illumination reflective" technology, is a micro-thin LED light strip that operates in three modes—fast strobe, slow strobe, and steady on. The hermetically sealed APALS are intended for use in the worst possible conditions and was designed by military operators searching for a low cost, ultra reliable, long lasting combat identifier and has been used in both the IR and visible light spectrum version by various law enforcement and military units, according to the company.
The APALS retails for $44 (white spectrum) or $55 (infrared).
Related: