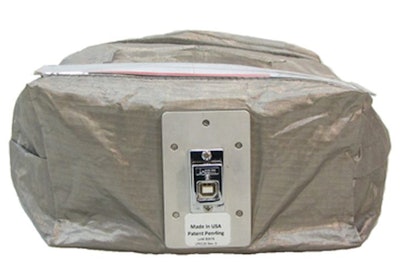 Saelig has introduced a shielded forensic pouch (Model No. SFP1215W) that enables hands-on manipulation of wireless devices in an RF-tight environment so internal data is not compromised.
The pouch's see-through soft material window and USB port provide fast and secure device manipulation and evidence collection in the field. SFP1215W is more versatile, portable, and affordable than lab-based metal enclosures, according to the company.
SFP1215W is manufactured from the proprietary silver/copper/nickel fabric used to make room-sized RF shielded enclosures. It provides better than 75 dB, 99.95% RF isolation from 500 MHz to 6 GHz and works with any portable wireless device, including smart phones, tablet PCs, and GPS units. Users control it via built-in capacitive sensing technology. The USB connection offers a fast and secure link to any forensic diagnostic software or computer.
The pouch weighs less than one pound and has outer dimensions of 15-by-11¾-by-4 inches. It's inside dimensions are 14-by-10-by-3 inches.
The pouch arrives with a 1 meter (3.28 feet) USB cable for external connection, a 1/2 meter (1.6 feet) USB A to Micro B cable for internal connection, and 10 wireless evidence cards. Optional accessories include a touch-screen manipulation insert and a weather-resistant carry bag.
SFP1215W is available now and retails for $395.