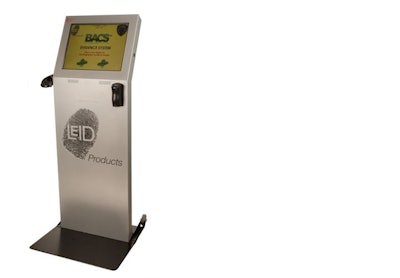 LEID Products has been awarded a new patent for its Biometric Access Control System (BACS) by the U.S. Patent and Trademark Office, the company announced.
The BACS computer ID Station Kiosk interfaces with electronic access cabinets, lockers and SmartRail gun rack systems to provide the highest level of secure management and tracking of assets, weapons, and evidence.
U.S. Patent No. 8,207,816 covers the system developed by LEID Products. LEID Products' state-of-the-art BACS ID Station Kiosk serves as the control point for access to assets stored in LEID's electronic storage units. The kiosk houses a biometric (fingerprint) reader to allow only authorized users to access assets; each user is restricted to access only the items they have been qualified to use.
For tracking purposes, the kiosk includes a RFID or barcode reader for asset verification. Additional layers of security can be added with options including a hand geometry scanner and card reader. Web-enabled remote management allows the administrator to manage the system at all times on and off-site.
Law enforcement clients typically use the BACS system to secure weapons, night vision goggles, tasers, AEDs, shotguns, AR-15 rifles, and surveillance equipment. BACS eliminates paper log methods, saving valuable employee time and resources while providing easily accessed and credible electronic tracking reports. The proven asset management system is used by federal, state and private sector clientele throughout the country to streamline operations. Added benefits of the asset management software include tracking equipment maintenance requirements and officer firearm training qualifications.
The BACS Evidence Management System is designed to help departments meet standards required by the Commission on Accreditation for Law Enforcement (CALEA) as outlined in Chapter 84 "Property and Evidence Control." Chain of custody for evidence is electronically tracked and accounted for with the BACS Evidence Management System, limiting liability and consequences of exposure to human error.
Recent enhancements to the system include version 2.0 of the BACS ID Station Kiosk, which enhances its sleek tamper proof construction with a larger kiosk screen for additional security and functionality. The system will often pay off the initial investment in less than 18 months, according.
"Our systems offer the highest level of security and accountability available today," said Sam Hoff, president of LEID Products. "The issuance of this patent supports our investment in BACS and its innovative technology; it reinforces our position as a leader in access control systems with built in asset management and inventory control software."