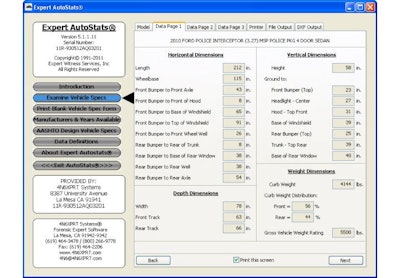 4N6XPRT Systems has begun shipping its 2013 Expert AutoStats vehicle database program to the vehicle accident investigators, according to the company.
Expert AutoStats is a complete vehicle database available that provides a full Windows compatibility with a 32-bit and 64-bit version. The database contains more than 43,000 vehicles covering model years from the late 1940s through 2013. Several 2014 model-year vehicles are also included.
Every vehicle in the database includes minimum data such as length, width, wheelbase, height, curb weight, and weight distribution. Most of the vehicles from 1980 to the present also include detail dimensions such as bumper, hood, windshield heights, front and rear overhang, moments of inertia, center of gravity placement, and performance data such as 0-30 mph, 0-60 mph, and 60-0 mph.