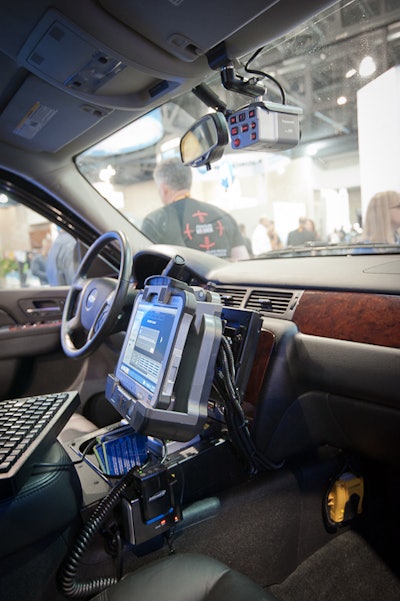 Panasonic released the full details about its Arbitrator 360 HD in-car video system that delivers 1080p resolution at the 2013 IACP Conference in Philadelphia.
The high-def upgrade to Panasonic's Arbitrator system that had been informally announced at the APCO Show in August raises the stakes in the police in-car video niche that has often lagged behind consumer demands for full HD image quality.
The higher image clarity better equips agencies and officers to "respond to citizen claims and build stronger relationships within their communities," according to the company.
The Arbitrator HD offers a front-facing full-HD camera with a 65-degree wide-angle lens that also includes a 30X optical zoom and 12X digital zoom. Up to four side- and rear-facing cameras recording 720p high-def images can be added to the system to provide a 360-degree view around a police vehicle.
The system delivers the capability to set recording based on preset triggers and stream video via a wireless connection from a patrol vehicle to the station. Dispatchers can remotely zoom cameras for better viewing.
The system preserves the chain of evidence with searchable categories and permissions settings. Files can be shared via DVD, as .wmv, or in a protected native format.
Panasonic's accompanying CommandIR in-vehicle management software allows full integration with a computer operating system and the ability to classify and annotate evidence files with additional data. The SafeServ management software enables user configuration, evidence management, and export for use in court. SafeServ manages a variety of digital files, including footage from Panasonic's WV-TW310 on-body camera systems.