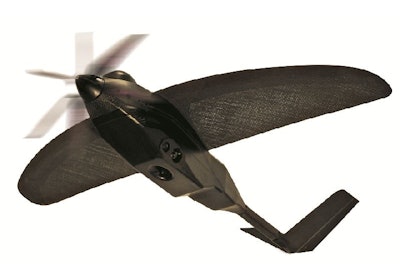 Applied Research Associates (ARA) received a Federal Aviation Administration special airworthiness certificate for its Nighthawk IV micro-unmanned aircraft. The certificate authorizes users to operate the drone for research and development, customer demonstrations, and crew training.
The Nighthawk IV, the company's fourth generation micro-drone, can be launched from a tube or by hand. The autopilot flies the plane while the operator uses a touch screen to direct the aircraft where to fly, when to return and where to land. Multiple safety features allow a single operator to fly the unmanned craft after four hours of training.
ARA has upgraded the Nighthawk design, avionics and replaceable payloads to provide improved in-flight stability, greater range and duration, and improved EO/IR payload, according to the company.
The certificate is supported by extensive safety, manufacturing, inspection, maintenance and crew training procedures that were reviewed and accepted by the FAA.