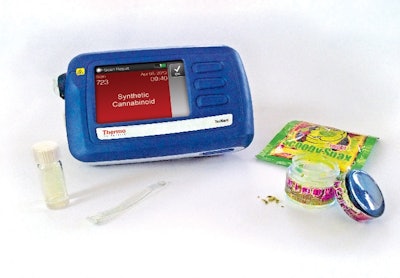 Thermo Scientific introduced an update to its TruNarc handheld narcotic analyzer to help officers identify synthetic drugs.
TruNarc v1.3, a handheld analyzer used for onsite analysis of narcotics and other drugs, now provides the capability to identify cannabinoids in final sprayed form and in bulk form. It also added Phenethylamines, PCP and APAAN to its library of identifiable substances.
Police officers can scan a drug in question and get easy-to-read results that determine whether the drug is illegal, according to the company.
The hand-held instrument can be worn on a police officer's belt.