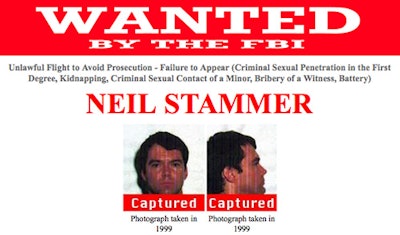 A U.S. fugitive on the lam for 14 years in connection with child sex abuse and kidnapping charges was apprehended in Nepal after authorities scanned his "wanted" poster with facial recognition technology from MorphoTrust, reports Ars Technica.
The FBI announced the arrest Tuesday of Neil Stammer, a 48-year-old New Mexico musician and juggler who skipped out on charges in 1999. The announcement came two months after James Comey, the FBI director, told lawmakers that the agency was "piloting the use of mug shots, along with our fingerprint database, to see if we can find bad guys by matching pictures with mug shots."
At the same time, the State Department was also testing facial recognition software—in this instance, to detect passport fraud. "On a whim," the FBI said, an agent with State's Diplomatic Security Service began scanning FBI most wanted posters.
"When he came upon Stammer's poster online, a curious thing happened. Stammer's face matched a person whose passport photo carried a different name," the FBI said.