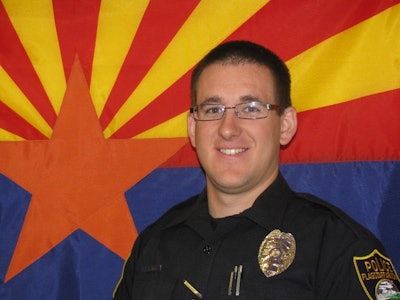 The video footage is raw, showing Flagstaff, Ariz., police Officer Tyler Stewart chatting with a man accused of breaking a couple things in his girlfriend's apartment a day earlier. That's what body cameras do: capture the daily work of police officers up close.
"Do you mind if I just pat down your pockets real quick? You don't have anything in here?" Stewart, 24, can be heard asking the suspect, Robert Smith, 28, who had his hands jammed in his pockets. They had been talking in the cold for a few minutes outside Smith's home Dec. 27.
"No, no — my smokes," replies Smith, who had been chuckling moments earlier. Smith then draws a revolver so fast that the gun is almost a blur. The video stops. Stewart is shot five times before Smith fatally shoots himself.
The Arizona footage raises questions about the balance between the public's right to know and privacy concerns for officers, the Los Angeles Times reports.
The Flagstaff Police Department redacted the footage to end before the shots were fired. Portions were broadcast on several television stations Tuesday, and one station uploaded the full footage to YouTube.
"We have to abide by the Arizona state law when it comes to releasing public records information," said Flagstaff Deputy Chief Walter Miller, who said officials sought legal advice before determining that they had to release the video under Arizona law.
"However, we also believe there are some privacy concerns and some basic respect concerns," Miller said. "This video is depicting a young officer's last moments on this earth, and he was tragically killed. I would like to see, personally, some legislative reform that allows us not to release certain videotaped reports to the media.... I would rather that the public didn't see that out of sheer respect for the officer and his family and the grieving officers here at the Flagstaff Police Department."
Miller said police notified Stewart's family before the video was released and gave Flagstaff officers a chance to watch the video and ask supervisors questions before they saw it on the local news.