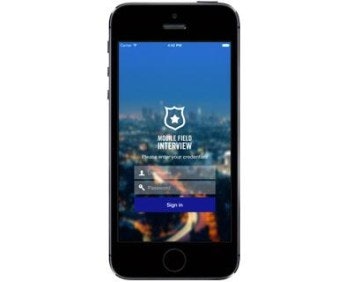 Haystax Technology Inc., a developer of next-generation analytics and cybersecurity solutions, has released a new mobile application to complement the Haystax Public Safety Cloud. The Haystax Mobile Field Interview Application is designed to streamline data entry for law enforcement agencies by providing an end-to-end digital data management system. The new app eliminates paperwork, auto-populates data, and finds related cases, providing law enforcement an enormous time savings in data entry tasks.
"The Mobile Field Interview is an essential law enforcement app that streamlines the field interview process and enhances situational awareness," said Mike Sena, Director of the Northern California Regional Intelligence Center. "Field interviews are the cornerstone of police investigations, and with this app our officers will be able to quickly generate those and evaluate field data against other information in the California Common Operating Picture/Digital Sandbox system, including critical infrastructure and key resources, and suspicious activity reports."
Key features of the app include seamless online/offline usage, data separation from other third-party applications, automated geo-location and secure data submission. The submitted data is managed in a central repository and can be used for real-time monitoring, reporting and insights.
"The Mobile Field Interview app is a continuation of our commitment to the public safety community," said William Van Vleet III, CEO of Haystax Technology. "Haystax pioneered mission-critical mobile applications for public safety, and in 2014 we successfully launched the Haystax Public Safety Cloud – currently the most widely deployed system of its kind in the nation."
The app is designed to meet the highest levels of government security while offering easy customer-specific configuration and rapid large-scale deployments. By leveraging Haystax' proven Public Safety Cloud platform, the application meets the needs of mission-critical organizations.
The application is available for download in the iOS App Store (click here) and the Google Play App Store (click here). Details on Haystax's mobile applications can be found here.
Haystax Technology, Inc. is a provider of advanced analytics and cybersecurity solutions. Haystax provides a full range of services and analytic products to protect and certify mission-critical information and real-time actionable intelligence for total enterprise protection. Haystax solutions are relied upon every day to protect against threats to some of the most mission critical and high profile networks and institutions in the world. Haystax Technology is headquartered in McLean, Va., with offices in Herndon, Va.; Raleigh, N.C.; and San Francisco. For more information about Haystax, visit http://www.haystax.com or follow Haystax on Twitter @haystaxTech.