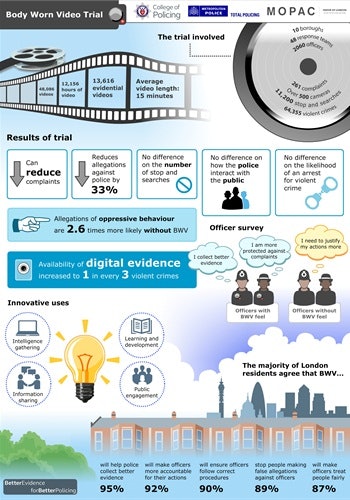 TASER International has announced the selection of the Axon body-worn video platform by the London Metropolitan Police Service. The new cameras will be deployed to all frontline officers. Final contract details are still being negotiated at this time.
Led by the Mayor's Office of Policing and Crime (MOPAC), the Metropolitan Police completed a 12-month pilot earlier this year using 1,000 of TASER's Axon body-worn cameras. The world's largest trial of body cameras to date was considered a success and a research study conducted by MOPAC and the College of Policing found that introducing the cameras resulted in a 33-percent reduction in complaints against officers.
"This is a hugely exciting moment for both TASER and its Axon technology platform. We're driving a global trend toward smarter, more transparent policing and we're beyond thrilled to be pushing new boundaries forward with one of the largest and most well respected police forces in the world," said TASER CEO Rick Smith. "Our Axon platform is now the most widely used body camera and digital evidence management solution in law enforcement, providing new and innovative ways to maximize officer safety while enhancing the level of trust of citizens through the collection of video evidence."
"I'm delighted that we will be able to press ahead with the roll-out of this technology. For too long our equipment has lagged behind the technology almost everyone has in their pockets to capture events as they unfold," said Sir Bernard Hogan Howe, Commissioner of the Metropolitan Police. "Soon, more of our officers will be able to make a record of the very challenging circumstances they are asked to deal with on a daily basis and then demonstrate, more effectively, the reality of policing our capital."