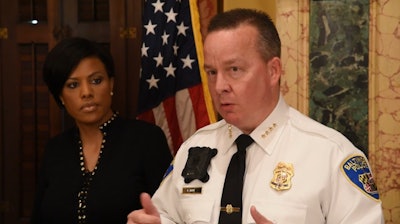 A year after the death of Freddie Gray, 500 Baltimore police officers will begin wearing body cameras full time on May 1, with the rest of the force to follow by 2018, reports the Baltimore Sun.
City and police officials outlined the launch of the permanent program Thursday, following a two-month pilot program late last year in which 150 officers wore the cameras in the city's Eastern, Central, and Western districts.
"I firmly believe that the cameras will help bring a greater sense of accountability and trust," said Mayor Stephanie Rawlings-Blake at a news conference.
The Police Department will deploy the cameras in five stages, 500 officers at a time, with a goal of equipping all 2,500 officers by January 2018.
The program will cost the city $11.6 million over five years, said Rawlings-Blake, who called the pilot program and bidding process necessary to the success of implementing a department-wide program.
The city's spending panel is expected to approve the program at a meeting next week.