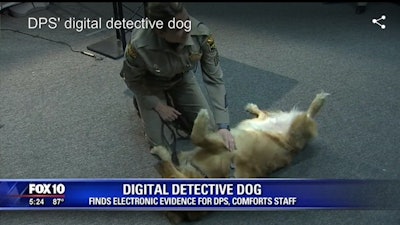 VIDEO: Golden Retriever Joins Arizona DPS to Find Hidden Data, Help Distressed Employees
A Golden Retriever has joined the ranks of the Arizona Department of Public Safety in an effort to provide comfort to employees in need.
DPS says Fallon will help provide calm and comfort to distressed detectives at the Arizona Counter Terrorism Intelligence Center. The 2-year-old dog has a number of special skills, including the ability to sniff out "digital evidence."
2-year-old Fallon was donated to DPS by the 100 Club and two troopers have already received special handler training for the dog's arrival.
DPS says Fallon will be especially vital in helping out computer forensic detectives, who frequently view evidence involved in sex crimes against children. These disturbing images can have lasting emotional effects on detectives and Fallon, in addition to her ability find hidden electronic media, is trained to sense emotional distress from people and provide support.