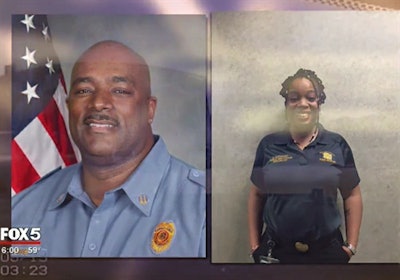 VIDEO: Police Body Cam Leads to Firing of Georgia Fire Captain
Last year two Atlanta-area firefighters complained to the Stone Mountain police department that one of its police officers used curse words during a May traffic stop.
But now, following an internal investigation, the DeKalb Fire Department has fired a long time Captain and given a notice of termination to another employee who resigned.
Stone Mountain Police Sgt. Steven Floyd pulled over DeKalb Fire Captain Terrell Davis for an expired tag at a local school. Davis called his co-worker Krystal Cathcart to the scene.
Sgt. Floyd issued the ticket but had to ask Krystal Cathcart to step away from the scene, since she wasn't involved in the traffic stop.
Krystal Cathcart later filed a written complaint, which included a warning about making a false sworn statement. She claimed Sgt. Floyd created "a sense of fear" at the scene, cussed her out twice, telling her to "back the f--- up" or he will throw her in the "back of my squad car."
DeKalb Fire Captain Terrell Davis backed up her written complaint saying Sergeant Floyd was "unprofessional, belligerent and disrespectful," Fox5 Atlanta reports.
After Stone Mountain PD played Sgt. Floyd's body camera video showing no cussing, Ms. Cathcart changed her story, writing "I recant the error of Sgt. Floyd using profanity."
DeKalb Fire Department Chief Darnell Fullum said there was an obvious issue of truthfulness and following an internal affairs investigation, the department accepted Krystal Cathcart's resignation in lieu of termination. And it fired veteran Captain Terrell Davis.
Captain Davis' attorney says he will appeal.