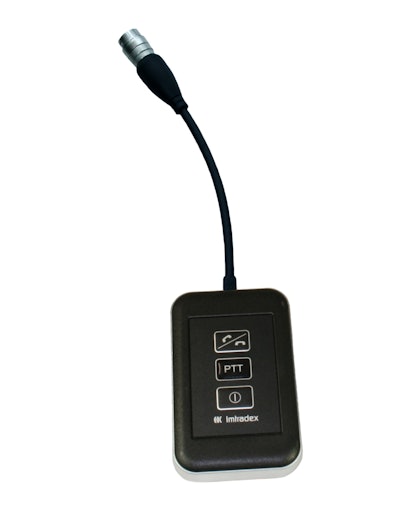 Imtradex plans to unveil its new communications products that are specifically tailored to the requirements of the security industry and authorities.
OnGuard-Solutions, a new product line, is used for communication with colleagues during covered or semi-covered service through a link between users and their mobile phones. One of the products in this line is the OnGuard BlueTalk Clear+, which will be introduced to the public for the first time.
The OnGuard BlueTalk Clear+ allows for completely interference-free covert communication over the mobile phone, rather than via radio. It features a modern in-ear receiver and up to 16 hours of operating time. Using Clear+ technology, the BlueTalk intensifies voice playback while attenuating background noise and optimizing the voice frequency spectrum. Its technical configuration is able to suppress electromagnetic interference radiation
In addition to the in-ear receiver, the new communications solution includes a highly sensitive microphone that is built into a neck-loop. The communication tool is available with various wireless PTT-buttons and can also be camouflaged among other things as a car key.
Imtradex will unveil these products in June, at Critical Communications World in Amsterdam and the General Police Equipment Expo and Conference in Leipzig, Germany.
For more information visit www.imtradex.com.