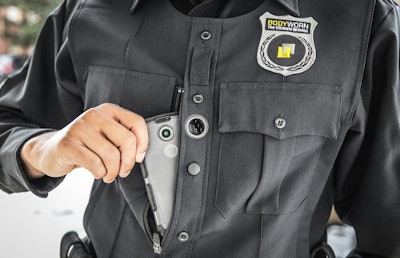 Utility Inc. announced today that the Lawrence Police Department in Indiana will equip its police force with BodyWorn body cameras to provide transparency and accountability in police operations. BodyWorn is the only recording solution with policy-based recording, according to the company. The Lawrence Police Department will also install Utility's Rocket IoT in-vehicle recording and communication system in each of its patrol cars. Body camera and in-vehicle camera recording will be integrated into one comprehensive video management system. BodyWorn and Rocket IoT will be on display at the Lawrence Police Department's educational technology forum on Tuesday, August 23, 2016.
"BodyWorn's advanced features will improve trust and result in safer officers in our cities," said Lawrence Police Department Chief of Police David Hofmann. "It is important to note that we are not bringing this technology to the City of Lawrence in response to any controversial issue. We wanted to be at the cutting edge and deploy the most advanced technology possible ahead of time because we owe it to our officers and community. The automatic recording capabilities of Utility's comprehensive solution will make police-citizen encounters fully transparent and provide necessary data to help drive our policing policies, procedures and crime analysis. We are excited to deploy this technology and blaze the trail for more police departments in Indiana."
The Lawrence Police Department purchased 44 BodyWorn body cameras and 44 Rocket IoT devices. This dual-technology solution enables body and in-vehicle cameras to work in tandem so the Department does not have to manage the complexities and costs of two separate video systems. Video of the steering wheel while the officer is driving does not have to be stored. The Wi-Fi network provides real-time communication between all in-car and BodyWorn cameras in and around the police car. The officer's BodyWorn camera will automatically begin recording when the officer leaves the vehicle. All video is synchronized so multiple views can be played side-by-side to provide full situational awareness.
BodyWorn is the only police recording solution that enables immediate video classification and playback on the camera itself, according to the company. The Officer Down Emergency Reporting capability can save an officer's life by notifying Central Dispatch of the Officer's exact location if they are injured and not able to respond to radio calls.
All video from BodyWorn and in-vehicle cameras is automatically uploaded directly to a secure cloud storage at Amazon Web Services. Lawrence officers will not have to manually upload video from docking stations when they return to the police station at the end of their shift.
"Our mission is to provide technology to police departments that improves trust and helps keep officers safe," said Robert McKeeman, CEO of Utility. "The last thing we want to do is burden officers with having to remember to press a manual recording start button when responding to a situation. The technology should do that for them to the maximum extent possible."
The Lawrence Police Department expects full implementation to be completed by the end of September 2016.
For more information visit http://www.Bodyworn.com. Information about Utility's automatic video redaction technology can be found at http://www.smartredaction.com.