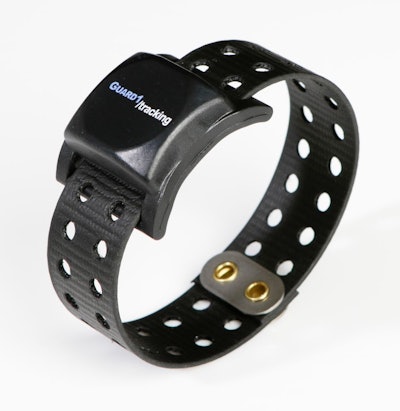 Guard1 tags use TimeKeeping Systems' proprietary RF technology to provide real time location and zone based tracking in correctional and behavioral healthcare facilities.
With its second generation tags, the Guard1 system has the ability to detect wristband removal. If a tag is removed from an inmate's wrist, Guard1 Real Time software generates a control room alert, with optional notification via text message or e-mail to administrators and supervisors.
TimeKeeping Systems says the tags require no recharging and battery life is four years with wristband removal detection enabled, eight years if disabled.
In addition to active zone-based tracking, Guard1 tags incorporate a passive RFID tag for reading by mobile devices to document interactions with inmates such as meal or medication distribution.
Guard1 tags can be worn with PrisonProof wristbands or facilities' existing wristbands. Other tag formats are available, including ID badge and asset tags for tools and equipment.
Inmate Tracking is a component of the Guard1 Real Time system.
For more information about Guard1, visit www.guard1.com.