AmpliVox has recently introduced several new products to fill their customers' sound amplification needs. In response to user feedback, the company has adopted top tech and design trends to provide versatile, reliable, and cost-effective solutions with several new products.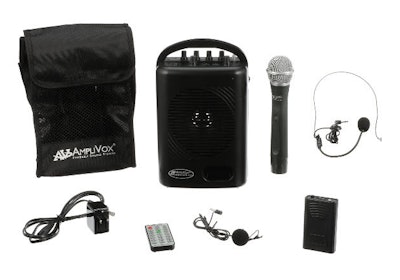 SW245B Dual Audio Pal
AmpliVox's new SW245B Dual Audio Pal is a Bluetooth-equipped compact sound system for audiences of up to 300 people.
The ultra-portable 50W Dual Audio Pal delivers crisp, clear sound from up to two wireless microphones at once, and also streams music and other audio for all types of indoor and outdoor events.
Weighing just six pounds and running on a rechargeable battery, the Dual Audio Pal can be easily carried to classrooms, school yards, group tours, meetings, and other settings.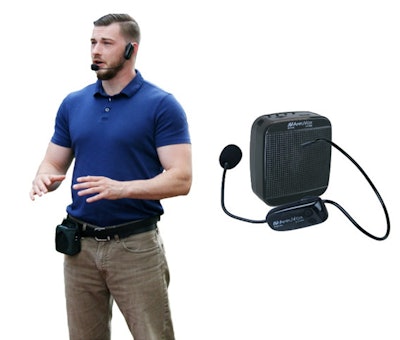 SW208 2.4 GHz Digital Belt Blaster
AmpliVox now offers a wireless, wearable PA that delivers crisp, clear sound amplification with hands-free, ultra-portable convenience.
The new S208 2.4 GHz Digital Belt Blaster combines a wireless headset microphone with a compact belt pack speaker to amplify speech for teachers, coaches, tour guides, product demonstrators, and other presenters.
Weighing less than a pound, the three-inch speaker pairs with the wireless headset for sound that easily reaches audiences of up to 100 people.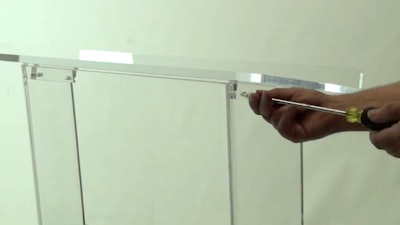 RTA Acrylic Lectern
AmpliVox's new ready-to-assemble acrylic lectern delivers classic style with the added ability to be easily taken down, moved to a new location, and reassembled with just a few screws.
Its elegant modern design can be customized with a clear, frosted, or smoked finish, or tinted in any color you require.
The RTA lectern features an expansive reading surface and an interior shelf for water or reading materials.
For more information, visit www.ampli.com.