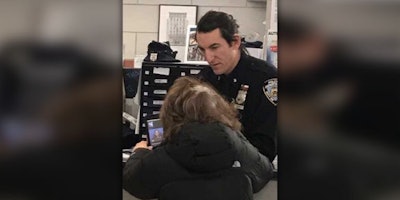 Officers with the New York Police Department now have a better way to communicate with subjects who are deaf or hard of hearing.
The agency said on Twitter, "As of Friday, every police officer in the five boroughs was given access to a Skype-like app on their NYPD smartphones, which will bring city sign-language interpreters face-to-face with victims in the field."
The teleconferencing system is similar to Skype, allowing the hearing impaired person to speak in sign language and the officer to communicate verbally with a translation conducted by interpreters employed by the city.
According to the Daily News, the decision to roll out the service comes after a successful two-month pilot program in three precincts in Manhattan, Queens, and Staten Island.
NYPD Deputy Commissioner Susan Herman—the head of the department's Office of Collaborative Policing—told the newspaper, "Communication is the cornerstone of making public safety a shared responsibility. If you can't communicate, you can't participate as well."