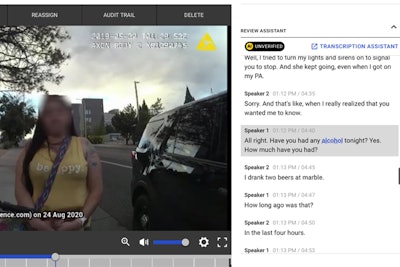 Axon—formerly known as TASER International—has announced several new technology solutions to address the issues of transparency now confronting police and the people they serve and protect.
The first is Axon Auto-Transcribe, which will help agencies to more quickly review—and potentially release—body camera footage of controversial events. With the massive rise in body-worn cameras out on patrol, there is an increased challenge in allowing command staff and internal investigators to quickly look at the footage, redact the faces of innocent bystanders and make determinations about what is worthy of release to the public.
Axon Auto-Transcribe uses artificial intelligence (AI) to help speed up that process. The technology includes a feature called Transcription Assistant which uses AI to generate an initial transcript so the user only has to focus on making corrections—versus transcribing from scratch.
Axon Auto-Transcribe is already in use at two police agencies in Canada and Texas.
The company also announced Axon Respond, which allows "the right help to be deployed to the right place to help avoid escalations and use-of-force," the company said in a statement.
Axon Respond is a cloud-based platform that combines real-time awareness—like live streaming—with modern communications—like talk-to-text—to drive response times and reduce escalations.
"There's a wealth of advanced technological innovation offered to public safety agencies today, but limitations arise if that tech is being deployed on a platform that is decades old," Axon CEO and founder, Rick Smith said in making the announcement. "With Axon Respond, we are completely reinventing the system by making it easy for dispatchers, patrols officers, field sergeants and tactical teams to communicate and collaborate in order to achieve the best possible outcome for their communities."
Finally, Axon will be announcing six new training scenarios as part of the Axon Virtual Reality Training program that will help officers prepare for conducting a peer intervention when they see a colleague acting inappropriately, as well as how to handle situations with subjects who suffer from dementia, Alzheimer's, or PTSD.
Smith said in making the announcement, "Our mission has always been to protect life and this training is a big step towards that goal."
Axon Respond Trailer from Axon Inc. on Vimeo.