Around noon on May 3, 2023, a man opened fire in a waiting room inside Atlanta's Northside Hospital. One person was killed and four were wounded. The suspect escaped as police responded. Hours later, he reportedly stole a pickup truck at an Atlanta gas station. Soon the stolen truck's tag was spotted by a license plate recognition system (LPR) as the suspect left the city for Cobb County.
The truck's plate was later spotted in the Cumberland area of Cobb County by a Cobb County LPR system. Cobb County's 911 communications center also started receiving calls from people who thought they had seen the suspect. Using the LPR system, the calls from concerned citizens, and traffic camera feeds from the Georgia Department of Transportation, the Cobb County Real Time Crime Center tracked the man to a residential complex near the Braves' stadium, Truist Park. Later that night, the suspect surrendered to law enforcement.
The Atlanta hospital shooting manhunt, which involved multiple local and federal agencies, is a demonstration of the power of LPR as an investigative tool.
Number Plates
LPR, known then as automatic number plate recognition (ANPR) was developed in the United Kingdom in the 1970s. But it really didn't become an effective tool in the UK until the 1990s when portable computers became more readily available and the software that received the data from the plate reading cameras became more capable. And it wasn't actually used to solve a major crime in the UK until 2005.
In the 1990s, LPR started migrating into the United States. But companies that tried to bring the British systems to the states faced a challenge. Unlike the United Kingdom, the U.S. does not have consistent automotive number plates throughout the country. Each state or territory has a different plate design and now each state can have hundreds of different plate designs, with vehicle owners choosing customized designs based on their love of nature, or their favorite sports team, or the college they attended, and many more motifs.
That means the software used in the U.S. had to be much more sophisticated at identifying images than it was in Europe and the UK. Consequently, LPR did not really take off in the states until the 2000s and 2010s. Now LPR, both stationary and mobile, have become extremely useful and efficient crime-fighting tools.
As in the Atlanta hospital shooting investigation, LPR has been used to track suspects wanted for serious crimes in numerous jurisdictions. It has also helped recover stolen vehicles, rescue abducted persons, arrest human traffickers and narcotics traffickers, and locate runaway persons with Alzheimer's disease or dementia. LPR systems are now evolving into next-generation tools as companies boost their capabilities with machine learning and artificial intelligence.
Leading LPR Vendors


Insight LPR: The Matrix Mobile from Insight LPR is a compact, low-cost mobile license plate recognition system with day/night capability. Matrix Mobile is designed for quick installation on a vehicle and is 4.7 inches wide, 4.5 inches deep, and 1.8 inches high. Day and night capable with dual high-definition and infrared cameras, the Matrix Mobile has a range of 70 feet and can read plates on vehicles traveling at up to 150 mph. Can be used with laptops, tablets, or phones.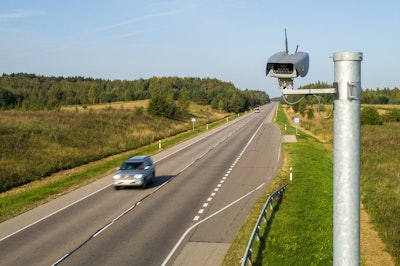 Jenoptik: Using the latest in optical and artificial intelligence technologies, Germany's Jenoptik produces some of the world's most sophisticated LPR systems.
The eyes of the system are the Vector2 camera, which can be used for both stationary and mobile applications. Jenoptik says the compact and durable Vector2 camera captures clear, high-resolution images even in difficult weather. Integrated light sensors give the cameras the ability to adapt to changing exposure conditions. Vector2 cameras can monitor several lanes at once, reading license plates and monitoring vehicle speed. Each camera is equipped with a GPS unit, compass, accelerometer, and three light sensors.
If the Vector2 camera is the eyes of Jenoptik's LPR system, the company's deep learning software is the brain. The software makes the cameras even more powerful, capturing plate images at a faster rate than some systems and also capturing information about the vehicle wearing the plate, breaking them down into cars, vans, trucks, buses, and motorcycles. The software includes a portfolio of images taken under different conditions that helps it learn how to capture better images. Jenoptik's AI deep learning software is trained with 50,000 plates. Then it learns as it sees even more plates.
In a 2020 interview with POLICE, Finbarr O'Carroll, president of Jenoptik Smart Mobility Solutions for the Americas, said the deep learning engine AI built into Jenoptik's LPR cameras has made them extremely accurate, even when plates are scratched or part of a character is obscured by mud or other opaque materials. "The deep learning software can identify the bottom of an obscured letter or number because it knows what the full one looks like," he explained. Jenoptik's AI deep learning software is trained with 50,000 plates. Then it learns as it sees even more plates.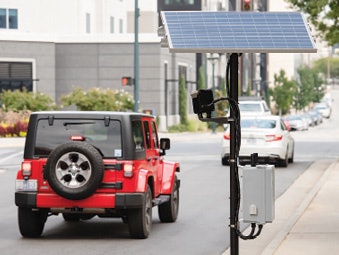 Leonardo (ELSAG): Leonardo, maker of ELSAG brand products, makes both mobile and fixed license plate recognition systems.
The company's newest Mobile Plate Hunter offers a smaller footprint and upgraded cameras over the previous version. The latest ELSAG camera captures high-resolution files of 1280 x 1024 pixels. It can read plates in harsh weather and day or night conditions. The company says it can even capture images of plates at passing and closing speeds of 150 mph.
Leonardo's latest fixed system is the pole-mounted ELSAG Street Sentry, a compact system that is solar powered and designed specifically for urban and suburban streets. Because the system is solar powered, it can be set up just about anywhere and left to autonomously do its work.
A larger, more powerful Leonardo stationary LPR system, the ELSAG Fixed Plate Hunter, is designed to be mounted along major urban arteries, on highways, bridges, tunnels, and overpasses. It has digital cameras, featuring built-in processors and a field control unit. The system can determine a vehicle's speed, providing data that helps to identify traffic patterns and automatically detect real-time traffic anomalies.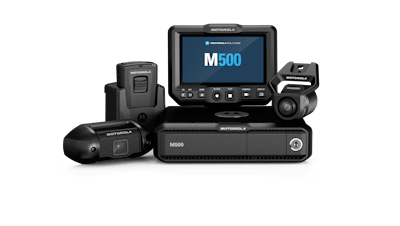 Motorola Solutions: In 2019 Motorola Solutions www.motorolasolutions.com entered the LPR market when it acquired the parent company of Vigilant Solutions. In the four years since, the company has integrated Vigilant products and technology while developing its own. The result is product offerings for stationary, portable, and mobile LPR.
The L5F fixed LPR camera has dual color and infrared global shutter sensors that scan at 30 frames per second and can capture plate images on vehicles traveling as much as 150 mph, even in zero lux conditions. A built-in AI engine identifies the make, model, and color of the vehicle carrying the plate. With 6mm to 25mm lens focal length options, the L5F can scan plates from 8 feet to 125 feet away.
For more temporary fixed LPR needs, Motorola Solutions offers the L6Q portable LPR camera system. The L6Q can be quickly installed, configured, and activated in minutes. Users can configure the L6Q to capture plates at speeds up to 75 mph. Options for powering the system include solar, battery, and AC/DC.
Motorola Solutions also offers a dedicated mobile LPR system, the L5M, as well as an LPR officer safety feature in its M500 in-vehicle video system. The M500 is not a replacement for a purpose-built LPR system, but it automatically scans plates during stops and compares them to a hit list. If the plate is on the list, it alerts the officer so he or she can take precautions.
Another interesting tool in the Motorola Solutions LPR line is the Vigilant Mobile Companion, which transforms a mobile device such as a smartphone into an LPR capture system. The Mobile Companion app allows officers to capture license plates on mobile devices and add them to the database. For example, at a large crime scene officers can snap pictures of vehicles and their plates. Not only is that much faster than taking out a pen and paper and writing down all the information on the vehicles at a scene, it also creates a digital footprint of the scene and it adds the license plates to a database where agencies share information. If one of those vehicles is on someone else's hotlist those officers can be notified that the car has been located. Hotlists can include information on parolees, stolen vehicles, warrants, DUI offenders, sex offenders, and others. The Vigilant Mobile Companion LPR app is available for both Android and iOS devices with strict access permissions and control set by your agency.
The data gathered by Motorola Solutions LPR cameras can be analyzed in the Vigilant VehicleManager to develop actionable intelligence and investigative leads. VehicleManager allows you to search with date and time filters and use the software to review the location where a specific plate has been sighted. The software can also be used to reveal associations between vehicles and therefore the people who drive them.
The Next Generation
The power of the latest LPR systems is one of the reasons why these tools have become so effective in helping law enforcement close cases and successfully resolve manhunts like the one that captured the Atlanta hospital shooting suspect.
In the near future LPR systems will only be more capable as both optics and software improve. As in most things involving computer technology, artificial intelligence will certainly play a larger and more critical role in making LPR more effective.
The form factor of dedicated LPR systems is likely to get smaller, making it easier to locate and relocate plate readers. As seen with Motorola's addition of LPR capabilities to in-vehicle video solutions, we are likely to see LPR added to more law enforcement devices, including body cameras, as a way to accelerate investigations and enhance officer awareness and safety.