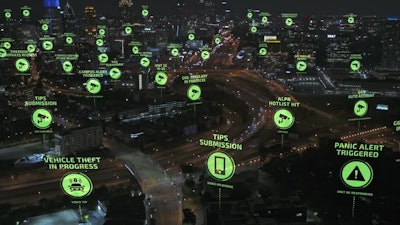 Earning and maintaining the trust of the community is one of the most integral pillars of effective law enforcement. Without it, no real foundation can ever be built that facilitates effective community policing.
If genuine relationships can't be forged between an agency and the people within their jurisdictions, a true public safety ecosystem cannot exist. This means more time, money, and resources dedicated to incident response and investigations.
Most law enforcement agencies would say that outside of solving crime, getting residents and business owners to buy into crime mitigation programs is a top priority. Clearance rates, and the budgets required to achieve those rates, have a strong linear relationship to the effectiveness of an agency's community engagement efforts. The thing is, given the challenging public-safety environment over the last three years, agencies across every spectrum of law enforcement want to engage in the most efficient way available, and in a timely manner that doesn't take away from existing resources. But they won't get there by throwing more money and manpower at the problem. (Skyrocketing overtime rates, anyone?)
What does build trust and efficiency are precision policing models forged at the intersection of community partnerships and the effective utilization of technology. Fusus, the most widely used Real-Time Crime Center platform in the U.S., addresses both of these pillars of law enforcement, by combining various technologies and community resources to form a powerful force-multiplier.
Allow me to explain.
An Analog Problem
The traditional Real-Time Crime Center (RTCC) started as a fusion center, was mostly hardwired, and consisted of analysts sifting through data as opposed to actually gathering it and dispersing it in legitimate real-time. Information was still being manually collected from numerous sources and the operations took massive amounts of resources and people to run. These RTCCs were also extremely costly and only within the grasp of larger agencies that could afford them. Small- to medium-sized departments just weren't able to be equipped with tools like these for their own criminal or emergency incidents.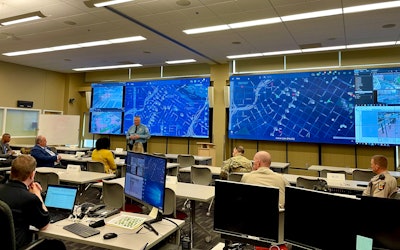 But beyond expense was the major issue—community involvement (or lack thereof). Sure, there were the national nights out and the neighborhood ice-cream socials, but from an operational law enforcement perspective, these initiatives did not yield compelling results because they failed to offer community members a long-term platform upon which to build joint agency-community initiatives.
The truth is that community residents typically want to play a role in the safety of their communities, whether they are actively helping officers with their own resources or have a level of trust built up with their local agency through transparent communications and actual relationships. But how do you get the right tools in place to maximize efficiency and objectivity in actionable evidence gathering? What types of programs can be created and maintained with the community that fosters trust and support?
Our Solution
Fusus was designed by a group of military, technology, and public safety professionals to directly address the issues facing public safety organizations by approaching them from the perspective of community engagement. The most unique feature of the Fusus RTC3 platform is that it was holistically created to be technology agnostic. This gives law enforcement an advantage when wanting to work directly with their communities, as well as integrating newer and existing technologies and infrastructure. The platform not only works to ingest camera feeds from any and every camera system, but also pull data, sensor, and visual feeds from their other tools into one centralized and interactive platform in real-time—into a single pane of glass that can be accessed anywhere.
These resources don't just come from police tools. They also come from the community. Residents have the ability to connect their own security devices, whether they are private residents or business owners and give law enforcement the capacity to ask and then pull available videos when critical incidents happen in their areas. This "Connect" program creates a touchpoint where both the residents and officers can communicate the different ways to work with each other, whether it is through their registered or connected cameras, or just a conversation. From that, there is more transparency, trust, and awareness of how agencies are working in their communities while also minimizing potential over-policing.
Along with this powerful software comes powerful artificial intelligence. Very few tools, if any, have the AI capabilities to sift through insurmountable data points at one time and pull only the most important and pertinent information from every connected source at once. Fusus not only offers that, but delivers on this in its Real-Time Crime Center. When first responders need a full, visual picture of any event, they can rely on their software to give them just that. This doesn't just work in theory, but in real-time, every single day for hundreds of agencies across the country that are taking in a combined 10,000 911 calls a day.
The Fusus platform is also built around a centerpiece of trust. Despite being able to use any technology in conjunction with the platform, it never compromises personal information, only presents actionable evidence, and never uses facial recognition technology. It also has robust and permanent auditing capabilities that leave a trail of searches and usage from each person in the system to track the way the platform is being used at all times. Private residents never have to worry if officers are in their cameras without their explicit consent each time they do a search. With objectivity and effectiveness being the desired end result, privacy and accountability are tied directly into the system for both the user and the community.
Boosting Clearance Rates
Because Fusus has gone the extra mile to make sure the product is successful, agencies are reaping the benefits of this public safety platform on a daily basis. Through the platform, agencies have been able to aggressively change closure rates for non-violent and violent crimes. For example–Atlanta's homicide rate of closure exceeds that of the national average, 82% to the nation's standard 52% thanks to important community policing programs like Connect Atlanta.
In the last six months in places like Rocky Mount, NC, there were over $211,568 of stolen property recovered and 89 instances where video compiled in the Fusus platform directly led to solved cases and the recovery of 30 firearms.
In 12 months, Bay County's Real Time Operations Center was responsible for recovering six missing persons, 26 stolen vehicles, identifying seven hit-and-run suspects, and finding 32 wanted persons with warrants.
And the Fusus platform also played a role in helping the Cobb County police achieve a 100% clearance rate over the past two years.
Fusus is working with hundreds of agencies across the country and helping them see the results that 21st century policing standards promised with a simple, but powerful public safety technology that is rapidly changing the public safety landscape for the better. By helping to build closer bonds between agencies and the communities they protect, Fusus is not just a Real-Time Crime Center platform—it is a community engagement platform upon which agencies, cities, and their residents can collaborate to build holistic public safety environments of the future.
Joshua Miller is the demand generation manager for Fusus.