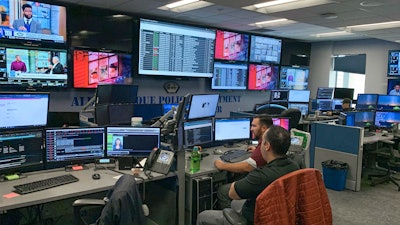 Picture a real-time crime center. There are computers running on desks, large video displays on the walls show camera feeds from numerous sources, and officers—in plainclothes and in uniform—as well as civilian personnel are working the data and watching the screens.
In a lot of the nation's real-time crime centers (RTCC), all of that information on the desktop and laptop computers and those big video displays is hard to analyze because different types of data is on different screens. Finding a way to make it easier and quicker to read and understand that information was the impetus for the development of Genetec's Citigraf solution.
"In a real-time crime center, you have a lot of data coming in. It could be CAD data; it could be video; it could be ALPR, it could be RMS data; it could be so many different things…" says Rick Taylor, national director of public sector for Genetec. "With Citigraf we wanted to put all of that information on a single pane of glass to improve efficiency."
Genetec's Citigraf is a front-end solution for real-time crime centers (RTCCs) that unifies data streams and operations across different municipal or county departments. Using Citigraf, RTCC personnel can make quick decisions and have officers take action. "Think of it as the conductor of the band," Taylor says. "It's allowing the members of the band—the RTCC officers—to be proactive and gain real-time situational awareness of what's going on before the dispatcher officers arrive on scene."
Chicago Story
The primary benefit of implementing Citigraf into an RTCC is improved response time, according to Taylor. He gives the example of how the city of Chicago has used the technology.
"The Chicago police came to me and said they wanted to improve their situational awareness in their real-time crime center," Taylor says. "They wanted to take all their different datasets and applications and bring them into one interface. They wanted one graphic user interface so they could improve their response time."
Taylor says before the Chicago PD acquired Citigraf, RTCC personnel had to analyze data from a variety of sources on different displays. "They might have had four or five different PCs they were working from, and they had to go from desk to desk sometimes looking at multiple monitors per desk," he explains.
The result was significant. Taylor says that when Citigraf was implemented in Chicago's RTCC in 2016 response times to emergency situations improved 39%. "A subset of that is officer safety and community safety," he adds.
Taylor explains that officer safety is improved by access to a variety of video feeds "where multiple stakeholders have video systems." Since the RTCC can access the commercial, city, and school video systems with permission, officers can be provided with valuable intelligence before arriving at, for example, a reported active shooter incident.
Chicago was one of the first to implement Citigraf. It was followed by other tier one agencies. Taylor interest in Citigraf's capabilities is now increasing at tier 2 agencies. Another type of agency that is showing great interest in Citigraf is public safety departments at colleges and universities.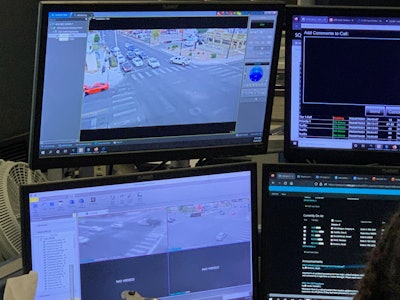 Albuquerque RTCC
Last year Genetec implemented Citigraf and some of its other products for the Albuquerque real-time crime center.
Albuquerque RTCC installed multiple Genetec tools into its solution, including Security Center, Citigraf, and Clearance. The combination gave the RTCC the ability to maintain its many independent video systems, monitor numerous feeds and tools on the same display, and share evidence. Albuquerque RTCC says one of the benefits of the Genetec implementation was gathering critical information about the cameras throughout the city.
"Before we couldn't see when cameras had fallen offline," says Tikashi McConnell, applications project manager at the City of Albuquerque. "We would only find out [they were offline] when we would go searching for the video that wasn't there. The ability to become more proactive with our maintenance was vital for our new RTCC platform as well."
The Citigraf dashboard shows the RTCC personnel information from critical tools in the city, including feeds from some of the city's 700 cameras and reports from gunshot sensors. "When a priority incident occurs, an icon will pop up on the map in the Citigraf dashboard. Our operators will click on it to see the CAD information, which displays everything that's known at the time of the call," says Mark Torres, commander of the Albuquerque RTCC. "The Citigraf system will show them all of the cameras in the area, so they can retrieve the video within seconds. They can locate nearby officers and then click on another tab to view recent reports of disturbances, armed robberies, or assaults in the area. Then they can relay that to the responding officers so they're well informed before they reach the scene," he adds.
Sharing Evidence
The Albuquerque RTCC implementation of Genetec technology includes Clearance, the company's evidence sharing tool. Clearance is designed as a complement to Genetec's other tools. It allows real-time crime centers and other law enforcement users to organize and supply evidence to other investigators, officers, prosecutors, and defense attorneys.
Taylor says any data displayed in Citigraf can be easily captured by Clearance. He explains that Clearance is not just for video storage, but users can create a case file and easily copy data into the file.
"Think of Clearance as a safe," Taylor says. "You can open the safe door and drop anything you need to secure into the safe. Nothing is being stored locally, and anyone you grant access can see what's in the safe."
Users can export video, audio, and other digital or digitized evidence into Clearance with a few mouse clicks. Then the investigators and others with permission can access the files from a secure CJIS-compliant cloud any time they need them. An automated audit log ensures that the chain of custody is preserved.
Torres says using Clearance eliminated a lot of unnecessary labor and transports of physical media. "Before Clearance we'd burn evidence on CDs and have our investigators collect it so we could maintain an evidentiary trail. But our detectives are busy, and sometimes it could take a day or two for them to collect evidence. Clearance helps us speed up that process, using a secure e-mail to transfer files to authorized individuals," he explains.
Using the Clearance camera registry feature, Albuquerque officers can build partnership with the community to improve evidence collection. Private camera owners who participate in Albuquerque Community Connect register their cameras with the APD and officers can e-mail them to request specific video. All the camera owners have to do is click on a link in the e-mail and securely upload the video evidence. The investigators can then log in to Clearance to view it.
Implementing the Technology
Genetec's solutions for real-time crime center operations and investigations are available in two models: on premises or software as a service (SaaS).
Each solution can be modified specifically to meet the needs of the agency. Taylor offers the example of a real-time crime center that might want a very specific capability.
"Let's say they want to integrate their healthcare database into Citigraf. They want to know who has open hospital beds in case of a major incident such as a bombing or active shooter," Taylor says that Genetec can provide its customers with such custom capabilities.