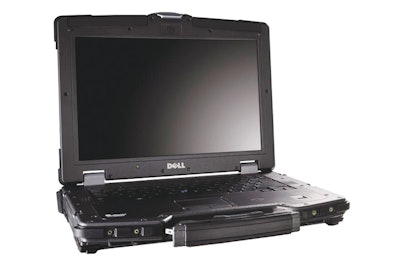 Back in 1965 Intel co-founder Gordon Moore postulated that the processing power of computers would double every two years. This theory now known as Moore's Law is now one of the most prescient of scientific predictions. It's also why your wristwatch probably has more computing power than the navigation computers that guided the astronauts to the moon and back 40 years ago.
Moore's Law is clearly evident in the inexpensive home and business computer market. Today's cheapest laptop computer on the shelves at Costco would have been an engineering marvel 15 years ago. But until recently, processing power has been lagging behind in computers designed for public safety applications.
There are a couple of reasons why public safety computers are often slower and less feature filled than consumer and business models.
Public safety computers, especially mobile data systems, tend to be ruggedized so they can withstand the vibration, shock, and environmental hazards of being operated in vehicles. Accordingly, many manufacturers have focused their energies and resources on making these computers tougher, not so much on making them smarter or faster. All of that system hardening and vibration protection is costly, so rugged computers tend to cost as much as three times more than consumer models. One way that companies have controlled the cost is by using less powerful processors, while offering customers upgrades on demand.
Until recently, this wasn't a big deal. Large Metropolitan Police Department didn't need state-of-the-art computers in its cars. So it was happy to take shipment of slow but durable mobile data systems.
But in the last few years that's started to change. The public safety mobile data customer now needs fast and rugged. That's because of tools like automatic license plate readers (ALPR) and high-end computer-aided dispatch (CAD) systems. That software requires state-of-the-art processing power.
Fortunately, there are now plenty of computer makers willing and able to supply high-powered mobile computers for law enforcement. Here's a look at the latest offerings from six of the top players in the market.
A huge player in the consumer and business markets, Dell entered the ruggedized mobile computer market in 2008. Dell's public safety flagship is the Latitude E6400 XFR laptop, a powerful and tough machine designed for graphics intensive applications in the field.
The Latitude E6400 XFR is so tough that you can go on YouTube and see video of it being drenched by a firehose. It meets MIL-STD 810F and even exceeds that ubiquitous standard in some categories. The Latitude's case is made of a high-tech non-metallic material used in missiles and high-performance aircraft that Dell calls "Ballistic Armor." Note: This material will not stop bullets, despite its name.
And when it comes to processing power it's a muscle machine. The Latitude's CPU is an Intel Core 2 Duo with vPro technology, and its graphics card is an Nvidia Quadro.
Dell developed its latest Latitude with a "no compromises approach," according to Steve Gilbert, Dell's world wide business development manager for Rugged Computing Solutions. Independent labs and third-party testers clocked the Latitude E6400 XFR at 90 percent faster than its leading competitor, he adds.[PAGEBREAK]
Getac was born when GE Aerospace formed a joint venture with Taiwan's MITAC computer company. The company has been making rugged computers for the U.S. Military for more than 20 years and for law enforcement for more than 15 years. Its latest offering is the V100 rugged computer.
The V100 is a combination notebook and tablet PC with a standard 10.4-inch touch screen display. Converting the notebook to a tablet is a simple matter of rotating the display. Versatile and tough, the V100 is protected by a magnesium alloy case and it meets MIL-STD 810F for vibration and shock and IP54 for liquid resistance.
The V100 has been souped up considerably over earlier versions. It now boasts an Intel Core i7 processor with a clock speed of 1.2GHz. Turbo Boost Technology pumps that up to 2.26GHz with a 4MB L3 Intel Smart Cache. The RAM can also be enhanced from 2GB to 8GB. Wireless connectivity is provided by a fast 802.11n wireless card. There's also Bluetooth and 3G connections.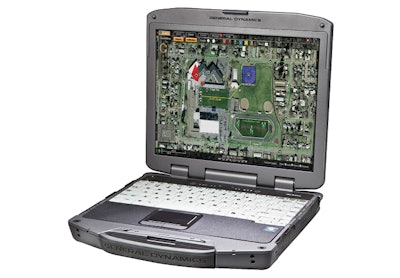 General Dynamics Itronix introduced its latest fully rugged notebook the GD8200 in June. The GD8200 is a serious contender for state of the art in this market.
Designed for portability, the GD8200 is both light at 7.5 pounds and compact with a 13.3-inch display. But it's also very tough. General Dynamics Itronix has subjected the machine to 35 environmental tests. And it passed every one of them, meeting MIL-STD 810G for shock, vibration, temperature, and altitude; MIL-STD 461F for electromagnetism; and IP65 for dust and water ingress. It's even specified for helicopter vibration, so it will easily handle life in a patrol car. In other words, you can take this thing to hell and back and still expect it to run.
And it runs really fast. The GD8200 boasts a second-generation Intel Core i7 vPro processor with a clock speed of 2.2GHz and an Intel Turbo Boost feature that pumps up the power to 2.9GHz. The processor is supported by 8GB of RAM and an Intel HD Graphics 3000 card. Storage starts at a 500GB conventional hard drive and a solid state drive is available
Wireless connectivity options are plentiful on the GD8200. It offers 802.11
a/b/g/n "high power" wi-fi. It's also one of the first rugged notebooks for public safety to feature 4G LTE wireless data transfer.
But what's likely to impress users most about the GD8200 is the display. General Dynamics Itronix is debuting its DynaVue II touch screen on the GD8200. The display is so easy to read in direct sunlight that it exceeds MIL-STD 3009 for outdoor contrast ratio.[PAGEBREAK]
Many officers associate onboard computers like Motorola's three-piece MW810 with the mobile data terminal (MDT). But there's really no comparison. Although the on-board computer system essentially looks like an MDT, it's much more powerful and much more versatile.
One of the selling points of the MW810 is its installation flexibility. The central processing unit (CPU) can be mounted in the vehicle's cabin to simplify the wiring or in its trunk to save space.
The MW810's flexibility also extends to the many processor options available to buyers. Processor options range from an Intel Core 2 Duo T9400 with a clock speed of 2.53GHz and a 6MB L2 cache to an Intel Celeron M575 with a clock speed of 2GHz and a 1MB L2 cache. Wireless connectivity includes Bluetooth support and 802.11 a/b/g/n with multiple antenna ports.
Display options include 12.1-inch and 8.4-inch screens. The displays are sunlight readable with brightness ratings of 1200 NIT.
Ergonomics are excellent on the MW810. Unlike laptops, the keyboard can be moved to match the work style of the user. The backlit, full-travel keyboard has a built-in mouse, so officers can use it in a variety of typing positions.
Motorola designed the MW810 specifically for patrol car use. It even has officer safety features, including GPS and Dead Reckoning GPS. The combination makes it easy to pinpoint the location of an emergency vehicle even if it is in a tunnel, surrounded by tall buildings, or in a parking garage. Motorola's development team also made the MW810 capable of working with ALPR software and hardware.
Many cops think the term "Toughbook" is synonymous with rugged notebook computer. And that tells you how dominant Panasonic is in this market.
Recently, Panasonic upgraded its flagship Toughbook 31 to increase its processing power and capabilities. The Toughbook 31 is now available with Intel Core i5 or i3 processors with clock speeds up to 2.6GHz. The graphics card has also been updated to an ATI Radeon HD6750 with improved 3D graphics for GIS and other graphic-rich applications.
Panasonic also upgraded the survivability of the Toughbook 31. It now meets all MIL-STD 810G standards for shock, drop, vibration, temperature, and altitude. It's also rated IP65 for liquid and dust ingress.
The display on the Toughbook 31 is a 13.1-inch XGA LCD with a brightness rating of 1200 NIT. Screen brightness can be dropped to as low as 2 NIT for night viewing. Customers can also opt for Panasonic's CircuLumin technology, which enables full-circle viewability in bright sunlight to pitch darkness.
The Toughbook 31 offers users a wide variety of wireless connectivity, including 802.11 a/b/g/n, optional Bluetooth, and 3G. It's certified for use on AT&T, Sprint, and Verizon networks. Later this year, Panasonic plans to have the Toughbook 31 include embedded support for 4G networks.
Rockwell Collins' iForce is a three-piece onboard computer system that's designed to have a minimum footprint in a patrol car. Users can mount the CPU in the vehicle's trunk or in its cabin, depending on preference.
The iForce is more than a computer system, it's essentially a computer-based communications system. It helps officers communicate with each other, communicate with databases, and-through voice command or through the 13.3-inch touch screen display-communicate with their vehicles. It's also equipped for interagency communications, as it can crossband between any radio installed in the car. This is one of the reasons why the iForce is now on duty with the California Highway Patrol.
Unlike most public safety computers, the iForce is not operated solely on Windows software. The system controls all of the vehicle's mission-critical functions such as lights, sirens, and radios on a military-grade Linux-based computer. "We don't design things and base them around a Windows OS so that when you get the 'blue screen of death' everything fails," says Preston Johnson, Rockwell Collins manager of strategy and marketing for public safety business.
The iForce also offers full Windows compatibility through a Windows module. This allows agencies to run such software applications as CAD and report writing programs.
There are two processors in the iForce system. The Unix-driven Base Computer Module (BCM) is powered by a Freescale MPC-512E with a clock speed of 400MHz; the Windows Computer Module has an Intel Core 2 Duo processor with a speed of 1.2GHz. The system meets military standards for rugged performance.
Johnson says users should not think of the iForce in the same terms as a rugged laptop. "You haven't lost anything by replacing your laptop with the iForce system," Johnson adds. "It's just that the iForce computer is inherently much more capable and rugged than a laptop."