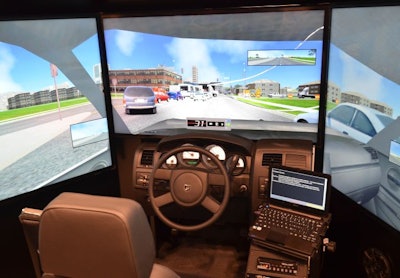 Each International Association of Chiefs of Police (IACP) conference has its own character. Some are about new vehicles. Some are about new trends in apparel. Some are about software.
This year's conference, which was held Oct. 22-26 in Chicago, appeared to focus on officer protection. Numerous products on the show floor were designed to protect officers either from attack or from litigation.
The following is a quick look at some of the innovative products that caught the attention of POLICE Magazine's reporters. We've also assembled a photo gallery, "IACP 2011 In Pictures," of additional products worth checking out.
Alcohol Countermeasure Systems: SAF'IR Evolution Breath Alcohol Tester
Alcohol Countermeasure Systems recently acquired the company Seres Ethylometre, and with it the SAF'IR Evolution, a handheld breath alcohol tester that provides evidential accuracy. That's right, you don't have to give a breath test you know is inadmissible while on the scene and then also take a suspect to the station for a separate test on another machine for results that will be accepted as evidence in court. The SAF'IR is also small enough to easily hold in one hand, making it convenient to carry. It uses infrared technology and provides instant response time and immediate display of results. It also analyzes "throughout the blow intake process for maximum accuracy."
Brother Mobile: Rugged Jet printer
Brother Mobile's PocketJet6 printer is small and light for maximum mobility, yet easily prints high-resolution full-page documents such as citations, forms, and even images. It weighs 1.3 pounds and measures
10 x 2.25 x 1.5 inches. You can mount it in your patrol car connected to a paper supply, or carry it with you and feed individual pages through it for printing on the go.
CrossMatch Technologies: Seek II Mobile ID Device
CrossMatch Technologies' compact Quad Reader easily mounts to the company's Seek II biometric identification platform to positively ID individuals by swiping a variety of identification cards used internationally. The Quad Reader uses a single slide channel to read magnetic stripe cards (found on drivers' licenses) on one side and Machine Readable Zone (MRZ) codes (found on passports and visas) on the other. Two chip readers-contact and contactless-can read a variety of credentials including ePassports and national identity cards.
It's pretty easy for the trained eye to spot a patrol car that's equipped with Automatic License Plate Recognition cameras. The devices stick off the car like sore thumbs. But ELSAG and Whelen now have a solution for that problem, the integrated ALPR light bar. This product is exactly what you think it is. It's a Whelen light bar that contains ELSAG cameras. The light bar is expected to be available early next year.
eWitness: Hi-Def On-body Camera and DVR
The eWitness on-body camera has a color 720p high-definition digital megapixel camera and tiny touchscreen wearable DVR. It works in near-dark conditions and provides immediate, zoomable playback. The primary camera fits over the ear, attached to a lapel, or mounted on a motorcycle helmet. If its breakaway cord becomes detached during a struggle, a secondary analog camera on the chest immediately activates and begins recording. The system includes a built-in GPS recorder, event prerecord up to 60 seconds, and 32GB solid state memory.
FAAC: LE-1000 Driving Simulator
Ann Arbor, Mich.-based FAAC debuted a new lower priced version of its driving simulator at IACP. The LE-1000 Driving Simulator features a realistic driving compartment available in Dodge Charger and Ford Crown Vic models, a large field of view for spatial recognition, MDT and radio interaction, and an all-in-one instructor console. Options include a remote instructor control via Apple products (iPhone, iPad, iPod), and using the LE-1000 in conjunction with IES' Driving Force system that runs seamless scenarios involving driving to a call and then getting out of the driving compartment to respond to the call.
Designed for Extended Response Team wear in "warm zone" operations during a chemical, biological, nuclear, or radiological incident, Gore's Chempak is a breathable fabric that's certified to protect against contaminants. The fabric is liquid proof, air-impermeable, and moisture vapor breathable. Chempak is certified for use by officers assigned to force protection, perimeter security, decon line operation, and medical response during CBRN events.
IR Tactical: Simulated Training Gear
IR Tactical provides simulated training gear that can be used practically anywhere you want to train. The company's Tactical Kit consists of the irM4, irVest, and SmartMag, which can be used together in simulated live-fire scenarios. The irM4 is a "projectile-less training rifle" that provides realistic noise and felt recoil and accepts most standard weapons accessories. The irVest has 10 sensors and two beepers to provide feedback. It also wirelessly transmits training statistics to a computer. The SmartMag uses 12g CO2 cartridges to power the irM4 and communicates with the gun while inserted, counting down the ammo with each shot for realism. Used together, the kit is an inexpensive training system.
Setcom: Tactical Wireless System
Setcom's new Liberator VL6 wireless SWAT intercom system allows a team to communicate amongst each other without the need for a fixed base station. With this new system, one team member's wireless module is designated as the "master" or "base," and people on the system within up to a half-mile of the "master" can communicate over open mic communications. No need to PTT to communicate with your team. The VL6 design combines advanced encryption technology with Setcom's exclusive Active Learning Filter Technology (ALFT) to allow users to easily communicate in extreme high noise and high wind environments without having to yell and shout.
Ti Training has added a Stress Vest to its Training Lab use-of-force simulator to approximate the experience of being shot during a scenario. It's not meant to feel like a bullet. But because the shock can be delivered to the chest or arm of a specific individual who is not safely behind cover, it's more realistic than a rubber pellet being arbitrarily launched into a training room where it could hit anyone, or no one. And it eliminates the distraction of an officer focusing on a ball cannon instead of the scenario at hand.
VidMic: VX2 Officer Worn Video
VidMic's VX2 is the second generation of the company's officer-worn video system. Like the first generation VidMic, VX2 incorporates body worn video into a fully functioning shoulder microphone. The camera can capture both still images and video. Evidence control has been greatly improved in the VX2, and access protocol can be customized to accommodate the laws and policies of a specific jurisdiction. In addition, the VX2 offers a larger LCD screen, higher resolution image capture, more memory, and better battery life than the first-generation VidMic.
WatchGuard's new 4RE HD camera system is the company's latest upgrade to its in-car digital video line. The 4RE HD combines a front-facing HD camera and a rear-facing HD infrared cabin camera that can capture evidence in total darkness. Featuring an 18X optical zoom, the front facing HD camera can capture fine details at ranges outside the capability of conventional in-car cameras. It offers 55-degree widescreen capture and an automatic night view mode with low-light F1.6 optics. The camera is encased in a ruggedized extruded aluminum body so it's tough enough for even the most demanding patrol environment.